Seite 1 (Battletech, Alpha Strike)
Seite 2 (Konstruktionsregeln, Kampagnen, Aerospace, Battleforce und Äras)
Was bleibt noch? Die Rollenspiele natürlich. Hierbei sollte ich ehrlich erwähnen, dass ich keines der aktuellen Systeme je gespielt habe und meine Einschätzungen vor allem auf meinem äußeren Eindruck und den Reaktionen der Community basieren.
Derzeit gibt es zwei Rollenspielsysteme für Battletech.
A Time of War
A Time of War löste 2009 MechWarrior, 3rd Edition ab. Es sollte einfacher und realistischer sein. Weniger zufallsgetrieben. Ein weiteres Ziel war es, das Rollenspielsystem näher an das Tabletop heranzubringen und das recht umständliche Umrechnen zwischen den Systemen zu erleichtern.
Im Ergebnis beschwerten sich viele Fans über zu viel Buchführung und nochmal deutlich lauter darüber, dass die mühsam erstellten Charaktere in Kämpfen zu schnell starben.
A Time of War Companion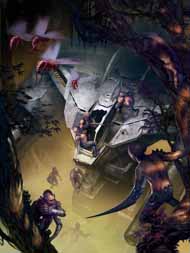 Das A Time of War Companion erweitert A Time of War und bringt das Life Path System zurück, das viele Fans aus MechWarrior, 3rd Edition vermisst haben.
Wie bei Erweiterungen zu Rollenspielen üblich liefert das Buch mehr Kreaturen, Waffen, Regeln etc.
Es wurde von der Community soweit gut angenommen, meiner Einschätzung nach auch besser als das Grundregelwerk.
Allerdings sorgt das neueste Errata für bzw. die aktuelle Fassung von A Time of War wohl für Inkonsistenzen, da beispielsweise Dinge wie Thick/Thin Skinned entfernt wurden, im Companion aber vorausgesetzt werden.
MechWarrior: Destiny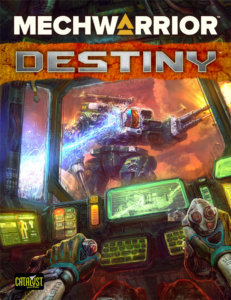 MechWarrior: Destiny ist die neueste Version des Battletech-Rollenspiels. Ähnlich wie Alpha Strike und Battletech, soll es aber kein Ersatz für A Time of War sein, sondern wird parallel dazu unterstützt.
MechWarrior: Destiny basiert auf dem Cue-System und kommt ohne Spielleiter aus, wodurch alle Mitspieler gleichwertig in das Spiel integriert sind. Es ist leichter zu lernen und actiongeladener als A Time of War. Auch sterben Charaktere deutlich weniger schnell.
MechWarrior: Destiny ist im Ergebnis ein guter Einstieg für Rollenspiel-Neulinge und für die spontane Runde am Abend.