Iron Dawn (Rogue Academy Trilogy #1) (3150)
GHOSTS IN THE DARK…
Jasper and Nadine Roux are cadets at the Ritza MechWarrior Academy; a dream come true for the orphaned siblings from the war-torn planet of Hoff. For the last six years, Emporia has been their home. Sponsored to the academy by the powerful Vogel House, both cadets are expected to excel in all tasks.T
heir dream becomes a nightmare when the Draconis Combine lands at their door.
It's up to the siblings to stop a renegade Seventh Ghost Regiment warlord when he lays claim to a piece of the Inner Sphere—starting with the Federated Suns' planet of Emporia. The border world looks like easy prey, but this warrior of the Dragon is about to learn how wrong he is. After the few MechWarriors on the planet are taken hostage, the Sponsored and Blooded cadets of the Ritza Academy fight like they have nothing left to lose.
It's a fight that will cost them more than they know.
Auf Amazon kaufen (Taschenbuch & E-Book)
Buy on Amazon – international link (paperback & eBook)
Auf Amazon kaufen (E-Book)
CADETS UNDER FIRE…
Jasper and Nadine Roux are cadets at the Ritza MechWarrior Academy…the only thing stopping a megalomaniacal Draconis Combine general with aspirations of claiming a piece of space as his own—starting with their home planet. Emporia is at war, and cadets are now frontline soldiers as Tai-sa Takeji Yoshizawa shifts tactics in a brutal effort to subjugate their entire world.
It's up to the siblings and their friends to stop the madman bent on conquest, but while Jasper believes Nadine is too reckless, Nadine believes Jasper is still living in the past. As both struggle to do what they think is right, the Ritza Academy comes under assault once more. It takes a shocking sacrifice to make them both see the true face of the enemy.
Reunited by the same purpose, Jasper agrees to Nadine's audacious plan to make Emporia too much trouble for the leader of the Seventh Ghost Regiment to conquer. Unfortunately for them, Tai-sa Yoshizawa has his own secrets, and nothing left to lose. And even if Nadine's plan works to perfection, the cunning general has one last trick up his sleeve that could bring about the end of everything Nadine and Jasper hold dear…
Auf Amazon kaufen (Taschenbuch & E-Book)
Buy on Amazon – international link (paperback & eBook)
Auf Drivethru kaufen (E-Book)
Crimson Night (Rogue Academy Trilogy #3) (3150)
A WORLD IN FLAMES…
Emporia has been bombed into disease-ridden ruins, and the planet's remaining forces have been scattered. Jasper and Nadine Roux are among the few surviving cadets from the Ritza MechWarrior Academy. They and their war-torn peers are all that stands in the way of Tai-sa Takeji Yoshizawa's plan to conquer their homeworld.
Tai-sa Yoshizawa battles dissension within the ranks of his most trusted advisors as he struggles to complete his conquest. Desperate to solidify his hold on Emporia, the rogue Draconis Combine colonel will use every option at his command—including capturing the last surviving heir of Emporia and claiming him as his ward, then ruling the planet through him.
It is a race to see who can reach the Ritza family first. With Nadine coordinating the survivors' evacuation from space, and Jasper on the ground fighting his way across a shattered world, everything rests on what happens when Emporian and enemy forces collide in an epic battle and the winner takes all in this explosive conclusion to the Rogue Academy trilogy.
Auf Amazon.de kaufen (Taschenbuch & E-Book)
Buy on Amazon – international link (paperback & eBook)
Auf Drivethru kaufen (E-Book)
SURROUNDED BY THE ENEMY…
In the 32nd century, the Republic of the Sphere is beset on all sides, its enemies seeking the most importSURROUNDED BY THE ENEMY…ant weapon in the Inner Sphere: interstellar communication. As the forces of the Capellan Confederation advance toward the heart of the crumbling Republic, they are laser-focused on the one goal that will give them the upper hand and destroy the Republic once and for all: the planet of Northwind.
Homeworld of the famed Northwind Highlanders mercenaries, Northwind is not only the site of a century-old betrayal, it also boasts the only working hyperpulse generator along the line of the Confederation's advance. Sang-shao Lindsey Baxter and the Fourth McCarron's Armored Cavalry have been tasked with taking Northwind at all costs, and the besieged Republic is unable to lend further support to the defending XII Hastati Sentinels. Northwind will be easy pickings, and other sharks smell blood in the water. The Highlanders' honor remains strong, but will it be enough to survive the coming storm?
Auf Amazon kaufen (Taschenbuch & E-Book)
Buy on Amazon – international link (papberback & eBook)
Auf Drivethru kaufen (E-Book)
NO PRICE TOO HIGH…
On the besieged planet of Northwind, the Highlanders are fighting a tenacious invading force from the Capellan Confederation, led by a regiment from the legendary McCarron's Armored Calvary, with support from Warrior House Imarra.
The first round went to the Capellans, who seized the city of Tara and the invaluable HPG located within it. But their position is precarious with the revelation of the Grey Watch, a legendary Highlanders fighting force that revealed itself when Northwind was in danger of falling, and turned what could have been an all out Capellan victory into an uneasy stalemate.
The arrival of a Draconis Combine fleet, recent allies of the Confederation, shifts the balance even further. Will the reinforced Capellan force finally bring Northwind back under the rule of the Celestial Throne, or will Countess Tara Campbell, Captain Declan Casey, and Knight of the Republic Maeve Stirling find a way to lead the embattled Highlanders to victory?
Auf Amazon kaufen (Taschenbuch & E-Book)
Buy on Amazon – international link (paperbcak & eBook)
Auf Drivethru kaufen (E-Book)
Children of Kerensky (3111 – 3151)

A RACE TO VICTORY…
Terra. For centuries, it has been the Clans' ultimate prize. As prophesied by their founder, Nicholas Kerensky, the Clan that conquers Terra shall ascend above all others to become the ilClan, ruler over the rest of the Clans. And its leader shall become the ilKhan, and will lead the Inner Sphere into a new era.
And now, nearly a century after the Clan Invasion, two Clans race to be the first to reach Terra and the ultimate prize. On one side is Alaric Ward, Khan of Clan Wolf, a brilliant warrior and complex mix of the best of the Clans and the Inner Sphere. He comes to save the Inner Sphere from itself, intending to construct a new empire among the stars. His main adversary is Chingis Khan Malvina Hazen, the brutal, ruthless leader of Clan Jade Falcon. Forged in a tradition where only the strong survive, she leads her touman not to save the Inner Sphere, but to raze it to ashes and rebuild it according to her own twisted vision.
All that stands between them and a decisive victory that will reshape the Inner Sphere forever is the impenetrable barrier shielding Terra from invasion, not to mention the forces of the once-mighty Republic, which has no plans to surrender without a vicious fight…the only question is, who will reach Terra first?
Auf Amazon kaufen (Taschenbuch & E-Book)
Buy on Amazon – international link (paperback & eBook)
Auf Drivethru kaufen (E-Book)
Honor's Gauntlet (3150 – 3151)
E-Book: 5,08 €, Taschenbuch: 9,75 €

A TEST OF LOYALTY…
Clan Jade Falcon's war efforts draw closer to Terra, but to conquer this ultimate prize, the Falcons' vicious Khan, Malvina Hazen, must be able to trust all of her warriors to carry out her commands without hesitation—no matter how much death or collateral damage they will cause. For Malvina, victory is the only thing that matters, and those who stand in her way suffer swift and brutal elimination.
Star Captain Archer Pryde is an unconventional Falcon MechWarrior who chafes at carrying out his Khan's terror tactics, but he delivers results in combat, so Malvina has turned a blind eye to his beliefs so far. But when civilians on a conquered world revolt against their Clan masters, innocents are caught in the Falcons' crosshairs. Archer and his fellow MechWarriors must prove their mettle to Star Colonel Nikita Malthus, the Khan's vindictive advisor, by carrying out their scorched-earth orders to the letter. But are these orders a betrayal of what it means to be a true and honorable Jade Falcon? With both his loyalty and honor in question, Archer must run the gauntlet between duty and principles, or risk his own destruction.
Auf

kaufen (Taschenbuch, Hörbuch & E-Book)
Buy on

– International Link (paperback, audiobook & eBook)
Auf

kaufen (E-Book)
MORE THAN A CENTURY IN THE MAKING…
Since the Clan Invasion of 3050 ended in failure, there are those who have not forgotten Nicholas Kerensky's ultimate goal: The conquering of Terra, and the rise of one Clan above all others…to become the ilClan, and rule over both the rest of the Clans and the Inner Sphere…regardless of what the Great Houses may say about it…
THE BATTLE THAT WILL RESHAPE THE INNER SPHERE BEGINS…
Now, in 3151, two Clans make the final jump into the shattered remains of the Republic of the Sphere. Their target: the cradle of humankind…and the ultimate symbol of the Inner Sphere…Terra. But Clans Jade Falcon and Wolf will face a powerful, tenacious enemy in the remaining forces of the Republic, led by their resurrected leader, Devlin Stone. The impending battle will engulf the entire planet, and when it is over, only one shall stand supreme…
Auf Amazon kaufen (Taschenbuch & E-Book)
Buy on Amazon – international link (paperback & eBook)
Auf Drivethru kaufen (E-Book)
TOO OLD TO FIGHT, TOO YOUNG TO DIE…
For nearly a decade, the relentless warriors of Clan Jade Falcon have held the world of Jangso in the A Place system, using it as a training ground for their next generation of warriors. When the planet's garrison departs to join other Falcon forces in the fight for Terra, the Clans' ultimate prize, aging Star Commander Hasara is ordered to remain behind. Deemed too old to be worthy of going to Terra, he still embraces his honor, and vows to safeguard the planet and all of the cadets too young to join the fight.
The Lyran Commonwealth, still stinging from losing Jangso to the Falcons, resolves to exploit their absence by taking back the planet before the Falcons can return. Armed with military intelligence and smuggled BattleMechs, Lyran natives on Jangso launch critical strikes at Hasara, his ex-MechWarrior partner, and the Falcon cadets under their wings, luring them into a trap.
But the Lyrans have greatly underestimated the Falcons' indomitable spirit and the lengths they will go to when driven to the brink of desperation. As Hasara wrestles with his own sense of honor, and faces dwindling morale and diminishing returns against troops seeking to exterminate him and his cadets, he must prove there is still enough fight left in his old bones to secure a victory for the future of his Clan.
Auf

kaufen (Taschenbuch & E-Book)
Buy on

– International Link (paperback & eBook)
Auf

kaufen (E-Book)
ABANDONED BY THE ARCHON…
Once the founding capital and a vital planet in the Lyran Commonwealth, Arcturus has been held by the Clans for more than two decades, most recently by the Jade Falcons. But when the Falcons suddenly abandon the planet in early 3151, Arcturus is left to fend for itself, with no support from Archon Trillian Steiner or former-Commonwealth worlds.
For Hauptmann-General Sarah Regis, commander of the Twenty-Sixth Arcturan Guards, returning home means a chance to free Arcturus from Clan control. However, the planet is not the same one she remembers. Instead, she finds a weary population fractured by internal strife, starvation, and the remnants of Jade Falcon cruelty.
To save Arcturus from itself, Sarah must forge a new path forward, one that offers her people something they haven't known in many years: hope. But many wish to see her fail, and the space around Arcturus teems with predators seeking to destroy everything she has fought for. Sarah's last hope to move Arcturus into a brighter future may actually lie in its past…if she can stay alive long enough to make it happen…
Auf

kaufen (Taschenbuch & E-Book)
Buy on

– International Link (paperback & eBook)
Auf

kaufen (E-Book)
Redemption Rites (3151)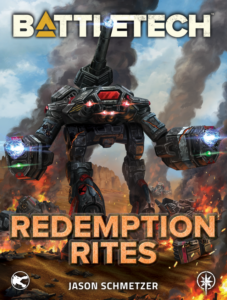 OUT FOR BLOOD…
Wolf's Dragoons, the most storied and elite mercenary unit in the Inner Sphere, has been utterly shattered for the first time in its centuries-long history.
In 3151, most of the Dragoons listened to Marotta Kerensky and followed Alaric Ward to Terra. There, they helped him destroy the Republic of the Sphere and establish the ilClan. Four out of five Dragoons died in the fighting. The survivors were injured, shell-shocked, and finally, gravely insulted by Alaric Ward's token payment of thirty pieces of silver.
In one brutal gesture, the ilKhan did what no other enemy had ever done: He broke Wolf's Dragoons. The decimated survivors limped off Terra to rendezvous with their remnants that had stayed behind.
Colonel Henry "Hack" Kincaid, senior striker officer, is waiting when the Dragoons convoy appears, full of wrecked machines, but depleted of personnel. Kincaid is a man of reputation in the Dragoons. His word carries weight. And he hasn't been tarnished by Terra.
Three regiments and one of his irreplaceable striker battalions have all been ground to dust.
All that is left now is duty.
And vengeance…
Auf

kaufen (Taschenbuch & E-Book)
Buy on

– International Link (paperback & eBook)
Auf

kaufen (E-Book)
Lethal Lessons (3151)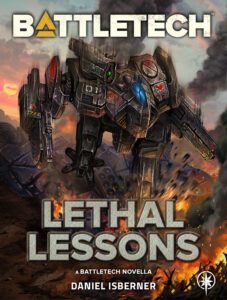 A PACK DIVIDED…

Clan Wolf has gone to claim Terra to fulfill the promise made by Aleksandr Kerensky centuries ago. But for those left behind, their story is a very different one…

Star Captain Jacinda of Clan Wolf Is one such warrior. Stuck on Campbelton in the Wolf Empire due to injury, she commands a sibko training facility while stewing over her lost chance to go with the Wolf touman to attain glory in the campaign for Terra. But heroism comes in many forms, and when a new invader targets Campbelton, Jacinda is able to unleash her primal warrior nature, and defend the Wolf's pups against all comers…
Auf

kaufen (E-Book)
Buy on

– International Link (eBook)
Auf

kaufen (E-Book)
A Question of Survival (3151)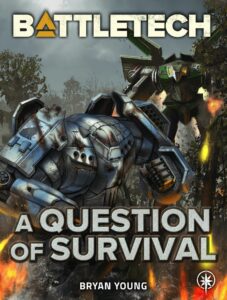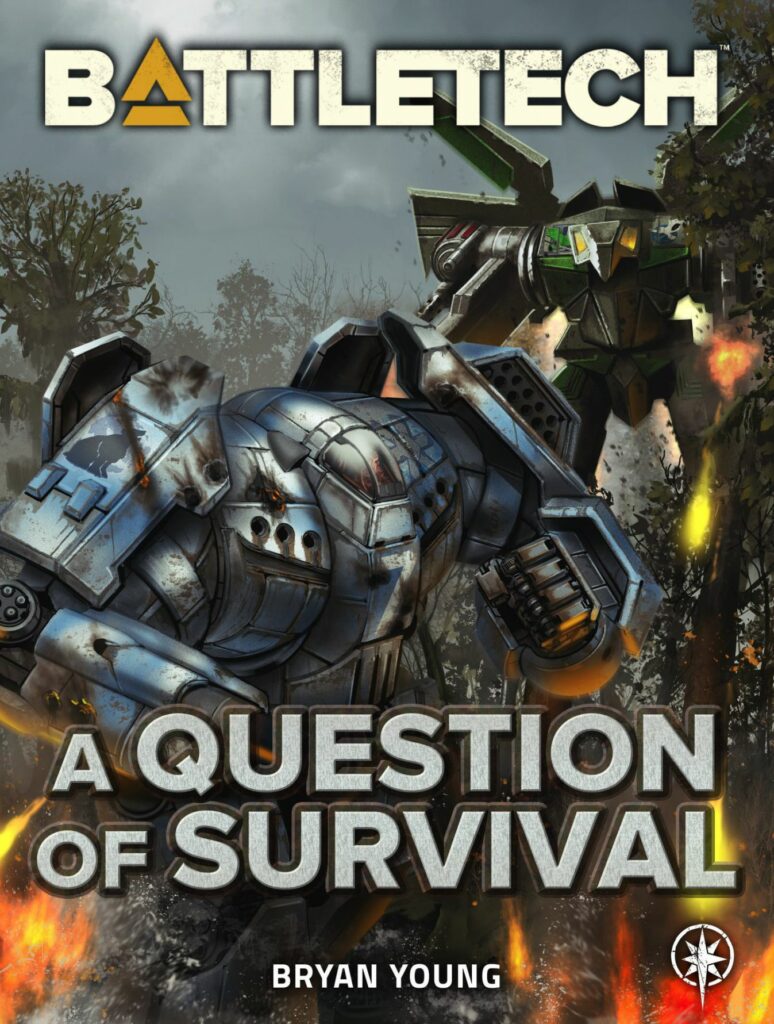 A FUTURE FOR THE TAKING…
As the last Bloodnamed Warrior left in the former Jade Falcon Occupation Zone, newly-elected Khan Jiyi Chistu has 'Mechs, but no MechWarriors—making it impossible to rebuild his Clan after the disaster on Terra. Meanwhile, despite being riven by the Dominion-wide vote on whether to join the new Star League or not, Star Colonel Emilio Hall's Ghost Bears have a planet full of talented sibkos ready to graduate.
When word of these sibkos reaches Khan Chistu, he hatches a bold plan to take them, eager to rebuild the Jade Falcons. But with Star Colonel Emilio caught up in the politics of the Ghost Bear vote, will he even see Jiyi coming? Or will he lose the sibkos that represent the very future of his Clan?
For both men and the Clans they hold dear, these dilemmas become nothing less than a question of survival…
Auf

kaufen (Taschenbuch & E-Book)
Buy on

– International Link (paperback & eBook)
Auf

kaufen (E-Book)
Elements of Treason: Opportunity (3151)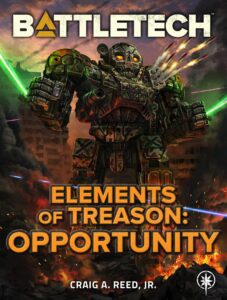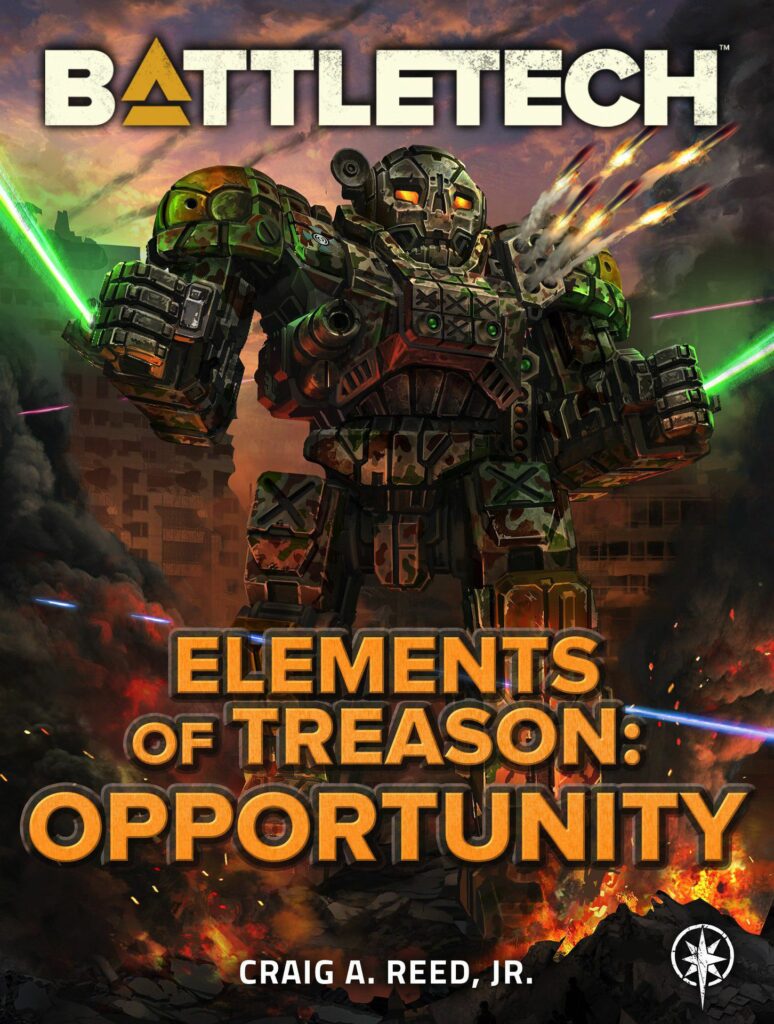 RIPE FOR THE TAKING…
Dissatisfied with Archon Melissa Steiner's leadership of the Lyran Commonwealth, Vedet Brewer, Duke of Hesperus, overthrew her rule in 3143 and claimed the mantle for himself—only to be unceremoniously removed from the position two years later. Brewer and his troops fled to the far reaches of Lyran space to lick his wounds and reevaluate his future, wandering the Commonwealth in search of potential allies and opportunities.
His travels finally led him and his First Hesperus Guards to one of his old haunts: Melissia, a former Lyran provincial capital, a world he has not returned to in two decades—the perfect place to put down new roots. But the Clan Jade Falcon occupiers have already departed, and in their absence, two opposing factions vie for dominance: one seeks a new future for Melissia, the other desperately clings to tradition and the old ways. All political avenues have failed, and a grinding war between commoners and aristocracy is their only discourse.
For an opportunist like Brewer, there is a clear path forward, but a ghost from his past calls everything he knew into question, and players in the shadows will stop at nothing to keep him from interfering in their carefully laid plans for the planet. Can Brewer muster the strength and courage to take advantage of this crisis, and plant the seeds of a new power capable of standing in defiance of the Archon?
Auf

kaufen (Taschenbuch & E-Book)
Buy on

– International Link (paperback & eBook)
Auf

kaufen (E-Book)
The Damocles Sanction (3151 – 3152)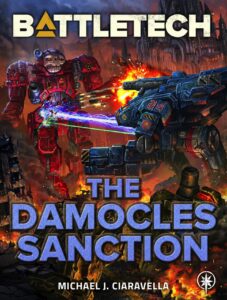 TO REFORGE A NATION…
The once-mighty Federated Suns has been weakened by years of conflict on both sides of its border. Its proud capitol, New Avalon, has been held by its mortal enemies, the Draconis Combine, for years, forcing First Prince Julian Davion to rule his fractious nation on the run.
But at long last, the time to liberate New Avalon from the Dragon is at hand. And despite very different opinions as to how they retake the Davion family's seat of power, Julian and his Prince's Champion, Field Marshal Erik Sandoval, must work together to free the planet, the first step to rebuilding their proud nation.
Yet liberating New Avalon is only the first step. While the First Prince attempts to hold the marches together and the Prince's Champion battles Draconis Combine forces on nearby worlds, new threats lurk around every corner. Facing dangers both at home and abroad, both men must fight to preserve the Davion throne while ensuring their own rivalry doesn't spark a brand-new conflict—one that could tear the Federated Suns apart all over again…
Auf

kaufen (Taschenbuch & E-Book)
Buy on

– International Link (paperback & eBook)
Auf

kaufen (E-Book)