Zuletzt aktualisiert am 25. November 2022 von DarkISI
Diesen Freitag lässt Catalyst es gleich mal so richtig krachen. Gleich drei großartige Produkte sind eben im Shop verfügbar geworden. Recognition Guide: ilClan 27, die Alpha Strike Box und die Eris Premium Miniatur.
Leider solltet ihr bei den letzten beiden besser nicht zugreifen, da die Versandkosten, die Catalyst's Versandpartner (leider nutzt ihr Warenhaus Fedex) für den Versand nach Europa will, absurd hoch sind. Davon abgesehen, dass Fedex euch bei Lieferung dann nochmal ungefragt Geld abknöpfen will, weil sie ja so "lieb" waren es für euch zu verzollen. Ohne, dass ihr sie darum gebeten habt. Was im übrigen illegal sein dürfte, da ihr keinerlei Vertrag mit Fedex habt. Ich kann mir ja auch nicht in eurem Namen eine Waschmaschine kaufen.
So, zurück zu Battetech.
Recognition Guide: ilClan 27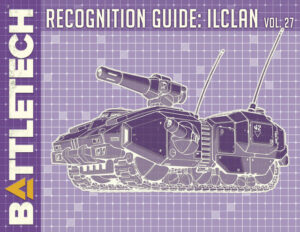 The march of technology across BattleTech's eras is relentless—but some war machines never die. This PDF-only series includes brand-new BattleMechs and OmniMechs, alongside Classic 'Mechs and combat vehicles from both the Inner Sphere and the Clans rebuilt with the latest technology to keep them competitive on modern battlefields. This series also includes in-universe development notes, battle histories, notable pilots, and record sheets for each unit.
Diesmal dabei:
Kamisori Light Tank
GAL-106 Galleon Light Tank
Hover Tank (Falcon)
Patton Tank (XL)
Phantom
Nightsky
Penetrator
Gunslinger
Recognition Guide 27 auf

kaufen (PDF)
Alpha Strike Box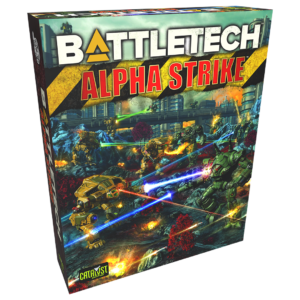 Catalyst hatte ja angekündigt, dass die Alpha Strike Box am 25. bei ihnen im Shop verfügbar werden soll. Das ist nun auch wirklich geschehen. Was vermutlich ebenfalls bedeutet, dass sie wie angekündigt am 15. in Richtung Einzelhandel verschickt wurde.
Was das nun für uns hier bedeutet? Abwarten. Bis nach Europa dauert es erfahrungsgemäß ja etwas, damit Waren ankommen. Aber selbst wenn es nun doch noch etwas dauert, die Box ist definitiv unterwegs zu uns. Und der SciFi Trader hat auch einige bestellt, wie ich aus gut informierten Quellen weiß.
Und was findet ihr in der Box?
13 Miniaturen (welche genau, erfahrt ihr hier und noch detaillierter und übersichtlicher in der Exceldatei im Artikel), Alpha Strike Karten, Pappgebäude zum Zusammenbauen, Pappbäume, Objective Marker und natürlich Einsteigerregeln für Alpha Strike. Ein Unboxing-Video gibt es hier.
Eris
Und zum Schluss: Der Eris.
Die neue Premium-Miniatur ist nun, mit einiger Verzögerung, verfügbar geworden. Wie seit dem Umstieg auf Monster Hunter Games als Produzenten gewohnt, kostet die Miniatur 15 $. Dann will Fedex aber nochmal locker 120 € für den Versand und dann noch ihre rechtswidrige Zusatzpauschale … Da kommt richtig was zusammen.
Aber auch hier weiß ich, dass der SciFi Trader bereits eine große Ladung bestellt hat und die Miniatur wieder führen wird, wie auch schon beim Timber Wolf TC oder Hammerhead (für den kommt mit dem Eris übrigens ein Ersatztorso).
Aufgrund des Versands (ich habe ja nun schon ein paar Mal darüber gemeckert), verlinke ich weder Box noch Mini hier. Links kommen dann, wenn sie beim SciFi Trader verfügbar sind.
Recognition Guide 27, Alpha Strike Box & Eris