Zuletzt aktualisiert am 20. September 2011 von DarkISI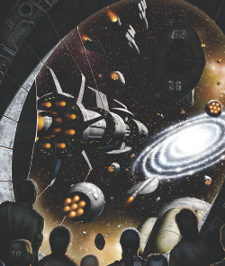 Zwar ist Interstellar Operations (IntOps) sicher noch weit davon entfernt zu erscheinen, aber ein paar Dinge gibt es hin und wieder dann doch zu berichten. So hat Randall vor einer Woche ein Blog veröffentlicht in dem er die Gliederung für IntOps zeigt.
Viel gibt es nicht zu sehen, aber es zeigt doch die generelle Richtung, die mit IntOps eingeschlagen wird.
Den kompletten Eintrag findet ihr hier (bitte beachtet, dass es unmöglich ist, wirklich gezielt ins Battleblog zu verlinken, da sich die URL der Einträge ändert, wann immer ein neuer Eintrag veröffentlicht wird).
(Anything followed by an asterisk is a "fiction/sourcebook section", as per the standard organization of all the other books.)

>>>>>>>>>>>>>>>

OUTLINE

TOC/Credits
Book Introduction
Universe Introduction*
Creating A Force
Faction Ranks sourcebook*
Running A Force
Age of War fiction*
Alterante Eras
Colonization fiction*
Solar System Construction Rules
Ares Conventions sourcebook*
General Rules

Campaign Play
Economy/Infrastructure
Chains of Command
Logistics/Supplies
Electronic Warfare
Factions
Maintenance, Salvage, Repair, and Customization
Communications/Intelligence
Personalities/Nobility
Space Travel
Colonization
Random Encounters
Misc.
Supporting PDF-only Material

Interstellar Communications sourcebook*
Strategic BattleForce
Faction Nobility sourcebook*
Planetary Assault
Star League fiction*
Inner Sphere At War
Mutli-system campaign fiction*
Scaling Rules
>>>>>>>>>>>>>>>>

Meinungen, aber auch Fragen könnt ihr hier hinterlassen.
Interstellar Operations – Gliederung