Zuletzt aktualisiert am 1. August 2020 von DarkISI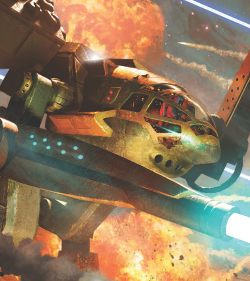 Diese Woche ist spannend. Bereits am Dienstag erschien Rock of the Republic als E-Book, Mittwoch dann als Taschenbuch.
Heute gibt es dann gleiche eine Reihe von Neuerscheinungen. TRO: Golden Century (aus meiner Feder stammen Rhino und Corvis (der Omni)), Recognition Guide: IlClan 4 und T-Shirts. Und der Era Digest: Golden Century ist jetzt im Print on Demand Verfahren über Drivethrugh zu haben (qualitativ lassen sich die PoD-Bücher im Übrigen nicht vom Auflagendruck unterscheiden).
Mehr kann man in einer einzigen Woche wirklich nicht erwarten. Wer mit mir über meine beiden Einheiten und ihren Fluff diskutieren willst, darf gerne die Kommentare nutzen. Ich freue mich riesig, dass das Buch nun endlich erschienen ist, denn fertig geschrieben war es schon vor weit über einem Jahr. 🙂
Technical Readout: Golden Century
Price: $29.99, Print-on-Demand with PDF included; $14.99, PDF only
"Those who break faith with the Unity shall go down to darkness."
While the Great Houses of the Inner Sphere decimated each other over the shattered remains of the Star League and slid into the technological dark age of the Succession Wars, the Clans of Kerensky entered into a golden era of prosperity. Bereft of Nicholas Kerensky's leadership, the Clans pushed their technological capabilities to their limits, developing devastating new weapons and technologies and flooding the battlefields of the Pentagon and Kerensky Cluster with powerful war machines as they trialed each other for supremacy.
Technical Readout: Golden Century unveils the weapons and technologies developed during a pivotal era in Clan history, when the Clans came of age and matured into what they are today. Technical Readout: Golden Century debuts the production and custom machines used by the Children of Kerensky in the early twenty-ninth and thirtieth centuries. Statistics and Record Sheets are included for 29 new advanced and experimental BattleMechs, OmniMechs, vehicles, aerospace, battle armor and WarShip units ready for play. In addition, a complete section covers the experimental designs introduced by the nascent Clans immediately following the Pentagon campaign.
Catalyst Game Labs Store (PDF only): https://store.catalystgamelabs.com/products/battletech-technical-readout-golden-century
DriveThruRPG (Print-on-Demand w/PDF): https://www.drivethrurpg.com/product/318818/BattleTech-Technical-Readout-Golden-Century
Era Digest: Golden Century
Price: $14.99, Print-on-Demand with PDF included; $9.95, PDF only
Birth of a new society…
The Clans, brainchild of Nicholas Kerensky, emerged from the ashes of the decimated Star League Defense Force to create a new order in distant lands. Ritualizing combat, they established a new society where only the strongest warriors rule and justice is won through battle.
Ironically, it would be the death of the Clans' founder that would catalyze this new society and spur a period of amazing technological and social growth known as the Golden Century. This was the age where Kerensky's warriors and their descendants truly forged themselves into the powerful army that would one day return to the Inner Sphere in a righteous Crusade.
Era Digest: Golden Century is a mini-sourcebook that describes the development of the Clans at their origin in a new series format, giving players a glimpse of early Clan life, the basics of Clan rituals, and a look at the rise and fall of Clan Mongoose. Complete with rules and stats for several Golden Century units–including the first OmniMechs–Era Digest: Golden Century also features role-playing support for this crucial period in BattleTech history!
Catalyst Game Labs Store (PDF only): https://store.catalystgamelabs.com/products/battletech-era-digest-golden-century-pdf
DriveThruRPG (POD w/PDF): https://www.drivethrurpg.com/product/83860/BattleTech-Era-Digest-Golden-Century
BattleMech Recognition Guide: ilClan, Vol. 4
Price: $3.99, PDF only
The march of technology across BattleTech's eras is relentless—but some BattleMech designs never die. Each installment of this PDF-only series not only includes a brand new BattleMech or OmniMech, but also details Classic 'Mech designs from both the Inner Sphere and the Clans, now fully rebuilt with Dark Age technology (3085 and beyond).
Allowing beloved units redesigned for the BattleTech: Clan Invasion Kickstarter to be competitive on "modern" battlefields, this series also includes in-universe development notes, battle histories, notable pilots, and record sheets for each 'Mech. Released as a series of 22 PDF-only documents through the end of 2020 and early 2021, many 'Mechs featured in this series will be collected as a single print volume upon its completion.
Das PDF kommt mit 19 Record Sheets.
Inhalt: Wasp, Thresher II, Warhammer IIC, Ice Ferret (Fenris), Blackjack, Trebuchet, Awesome
Catalyst Game Labs Store: https://store.catalystgamelabs.com/products/battletech-recognition-guide-ilclan-vol-4
DriveThruRPG: https://www.drivethrurpg.com/product/322381/BattleTech-Recognition-Guide-ilClan-Vol-4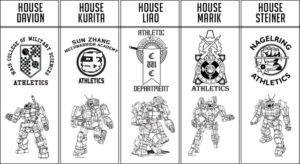 MechWarrior Academy Athletic T-Shirts
$24.99 each
First time available online!
Wear your alma mater with pride with these athletic t-shirts displaying one of the Inner Sphere's finest military academies on the front, and an iconic BattleMech on the back. Now including the all-new Allison MechWarrior Institute for the Free Worlds League fans!
Catalyst Game Labs Store: https://store.catalystgamelabs.com/products/athletic-shirts
Rock of the Republic
FAR FROM HOME…
Exarch Devlin Stone, hero of the Word of Blake Jihad and architect of the Republic of the Sphere, has returned to Terra only to find his beloved nation under siege and in danger of breaking apart. As threats bear down on the Republic from all sides, Stone and his inner circle must move fast to bolster Terra's defenses from all who seek to conquer the birthplace of humanity.
However, not all of his allies have heeded Stone's call to arms. Former Exarch Damien Redburn, who left Terra to defend the Republic's borders from the rapacious Clan Wolf, was cut off when the walls of Fortress Republic rose. Without support or reinforcements, Redburn, the Fidelis, and Countess Tara Campbell's Highlanders have held the line against the Wolves for years, but the never-ending campaign has pushed all of them to their breaking points.
Is Stone's return genuine, or a carefully crafted hoax? Can Redburn be brought back into the fold, or has he gone rogue for good? In the end, Stone, Redburn, and their allies must each decide their path before tensions can erupt in a clash that could shake the very foundation of the Republic.
Auf Amazon kaufen: https://amzn.to/30TTOPy
Neuerscheinungen diese Woche (KW 31 2020)