Zuletzt aktualisiert am 16. November 2020 von DarkISI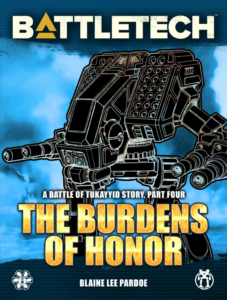 Die neue Tukayyid Kurzgeschichte ist gestern erschienen. Etwas später als angesetzt (sollte ja eigentlich Freitag erscheinen).
Worum geht es diesmal?
Adam Cunningham, a Draconis Combine warrior taken as a bondsman by Clan Ghost Bear, is given the chance to prove his honor to his Clan in the battle for the city of Luk.
Die Kurzgeschichte ist vorerst exklusiv im Catalyst Store zu bekommen. Später wird sie gesammelt mit dem Rest auch bei Amazon, Drivethru etc. zu haben sein.
Tukayyid Kurzgeschichte 4: The Burdens of Honor