Zuletzt aktualisiert am 6. Juni 2021 von DarkISI
Okay, ich schmeiße nicht noch ein Update auf den Beitrag von gestern. Davon abgesehen verdienen deutsche Produkte auch durchaus einen eigenen Beitrag.
Frisch erschienen sind zwei neue E-Books der alten Bücher. Die Jäger und Heimatwelten erscheinen im neuen Gewandt. Warum sie dabei allerdings immer noch das alte Logo nehmen … Keine Ahnung. Aber das sollte man vielleicht mal in einer Coveranalyse thematisieren. Ist ja nicht so, als wenn ich nicht schon genug Cover von Neuauflagen abzuarbeiten hätte … Aber ich mache es ja gerne.
Mit einer gedruckten Ausgabe via PoD ist wohl leider, wie gewohnt, nicht zu rechnen.
Die Jäger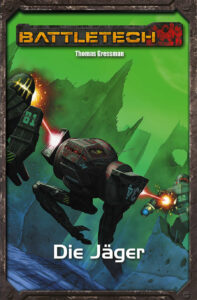 Die Kräfte der Freien Inneren Sphäre ziehen unter dem Banner eines neuen Sternenbundes nicht mehr nur auf den besetzten Welten gegen die Nebelparder ins Gefecht. Sie setzen eine zweite Streitmacht nach Diana in Marsch, zur Heimatwelt der Nebelparder, um alles Leben auf diesem Planeten auszulöschen.
Victor Steiner-Davion führt Operation Bulldog an, den Angriff auf die besetzten Systeme der Inneren Sphäre. Das Kommando über die zweite Operation, die heimlich nach Diana in Gang gesetzte Einsatzgruppe Schlange fällt an Marshal of the Armies Morgan Hasek-Davion.
Morgan und die Schiffe seiner Einsatzgruppe folgen dem Weg zu den Heimatwelten, demselben Weg in die Tiefen des Alls, auf dem General Aleksandr Kerensky seine Armee dreihundert Jahre zuvor ins Exil führte. Kerensky hatte alles hinter sich gelassen, um die Menschheit vor sich selbst zu retten. Jetzt folgt Morgan den Spuren des legendären Generals, um die Menschheit vor Kerenskys Hinterlassenschaft zu retten.
Auf Amazon kaufen (4,99 €)
Auf Drivethru kaufen (4,99 €)
Heimatwelten
Dank kostbarer Geheiminformationen, die ihnen den Weg zu den Heimatwelten weisen, können die Nachfolgestaaten der Freien Inneren Sphäre die Clans endlich in einem fairen Zweikampf stellen – hinter ihren Frontlinien. Um die gewaltige Kraftanstrengung zu ermöglichen, die dazu nötig ist, muss der legendäre Sternenbund neu entstehen, eine Union der Nachfolgestaaten und ihrer BattleMechs unter Führung Victor Steiner-Davions. Aber das tödliche Ränkespiel der Politik lässt die Nachfolgefürsten einer derartigen Allianz misstrauen, und Victors machtbessene Schwester Katrina Steiner brütet immer neue teuflische Pläne aus, um ihre eigenen Ziele zu verwirklichen. Vor diesem Hintergrund könnten sich die Clans als blosses Mittel zur Ablenkung von der wahren Gefahr herausstellen …
Auf Amazon kaufen (4,99 €)
Auf Drivethru kaufen (4,99 €)
---
Dir gefällt die HPG Station? Du willst sie unterstützen? Dann hilf, sie zu finanzieren (Webspace kostet Geld und die News hier eine Menge Zeit und irgendwelche Werbebanner oder Trackingcookis will ich absolut nicht hier haben).
Du kannst entweder einem der Links auf der Seite zu Amazon oder Drivethru folgen oder auch gerne PayPal Me nutzen und ein Dankeschön hinterlassen.
Deutsche Neuauflagen: "Die Jäger" und "Heimatwelten" jetzt als E-Books