Zuletzt aktualisiert am 4. Februar 2022 von DarkISI
Das hat gedauert. Das Buch ist ja leider immer und immer wieder verschoben worden. Jetzt ist es aber da. Spotlight On: Hellion Keshik ist der neueste Eintrag in der Saga des Scorpion Empire.
Spotlight On: Hellion Keshik
Death From Above. No words better describe Hellion Keshik, the bodyguard Trinary for Clan Goliath Scorpion's saKhan. Few formations conjure terror amongst their enemies more than this assemblage of warriors. Forged from tattered remnants of two Clans, one absorbed and the other abjured, Hellion Keshik welded their disparate philosophies into one. As the tip of the spear for Hellion Galaxy, the Keshik does more than protect the saKhan. These warriors train endlessly and fight savagely like no others in the Scorpion Touman. The Keshik has never tasted defeat, because victory is so sweet.
Spotlight On: Hellion Keshik includes a Unit History, Personalities, Personnel Rosters, Mission Tracks, and data for use with all scales of BattleTech play.
Wave 2 & Wolf's Dragoons Record Sheets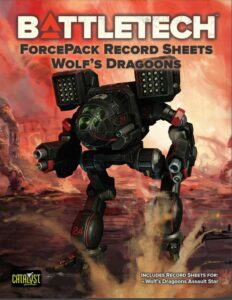 Und für alle, die Record Sheets suchen gibt es die Record Sheets zum Wolf's Dragoons Force Pack und zu den Wave 2 Force Packs jetzt auch kostenlos bei Catalyst zum Download.
Spotlight On: Hellion Keshik