Zuletzt aktualisiert am 10. September 2021 von DarkISI
Spotlight On: Schmidt's Petraries ist jetzt verfügbar. Leider immer noch kein Failings in Teaching. Keine Ahnung, was das aufhält …
Wie auch immer, nach dem großartigen Operational Turning Point: Hanseatic Crusade kriegen wir mit Spotlight On: Schmidt's Petraries einen etwas fokussierteren Einblick in die Ereignisse. Und mehr Scorpion Empire Produkte wurden bereits angekündigt.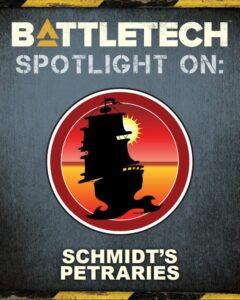 Captain-Marshal Rudolf Schmidt took command of the Hanseatic Defense Force at a critical juncture. The nearby Scorpion Empire posed an existential threat to the Hanseatic League. While reorganizing the HDF, he recognized a crucial need for an elite company to inspire the troops. Thus was born Schmidt's Petraries, the HDF's overall command company and home to the best of the best. Intense training with their comrades was far different from the trial by fire that the Petraries faced when the Scorpion Empire finally invaded. The Petraries rose to the occasion, defying the fearsome invaders and inspiring a nation with their deeds.
Spotlight On: Schmidt's Petraries includes a Unit History, Personalities, Personnel Rosters, Mission Tracks, and data for use with all scales of BattleTech play.
Spotlight On: Schmidt's Petraries – Jetzt im Handel