Zuletzt aktualisiert am 6. Dezember 2011 von DarkISI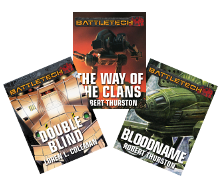 Neben RS 3050Uu hat Catalyst heute auch noch 3 weitere Romane als E-Book veröffentlicht. Bei ihnen handelt es sich um: The Way of the Clans, Bloodname sowie Double Blind.
Wer die Bücher noch nicht hat, ist sicher gut beraten, sie sich zuzulegen. Aber auch wer sie bereits hat, wird jetzt in die Lage versetzt, sie auf seinem E-Book-Reader zu lesen.
Mit 4,99$ ist der Preis für die einzelnen Bücher auch sicher angemessen. Wer sich jetzt wundert, warum wir nicht auf die Produktseiten linken: Es gibt bislang leider keine, der Bereich der Webseite befindet sich noch im Aufbau.