Zuletzt aktualisiert am 24. Mai 2012 von DarkISI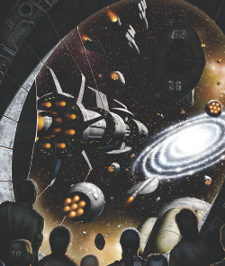 Wie man es von Ben schon seit The Wars of Reaving kennt, bloggt er ganz gerne, wenn er an einem größeren neuen Produkt arbeitet. Derzeit arbeitet Ben an Total Chaos und gibt in seinem Blog Aufschluss darüber, worum es sich bei dem Buch handelt.
Da ich nicht den ganzen Artikel übersetzen will, tue ich das einfach mal nur für die Liste an Inhalten, die er bietet. Für den Rest müsst ihr das Blog selber lesen 🙂
Alle Chaos Campaign Tracks für die Produkte vor den Jihad Hot Spots Büchern
Einige Schlüsseltracks aus den Jihad Turning Points, eingefügt in die Zeitleiste.
Einige neue Tracks, die vorhandene Schlüsselkonflikte entweder erweitern oder komplett neue Konflikte zeigen.
Die Missionstracks, die zuvor in den Starterbooks gedruckt wurden.
Drei neue Söldnereinheiten, denen die Leser durch die Kampagne folgen oder sogar spielen können.
Nahezu 40 detaillierte Quellenbuchartige Einträge zu planetaren Schlüsselkampagnen des Jihads, einschließlich Gefechtsteilnehmern und Informationen dazu, wie man eine Minikampagne veranstaltet.
Neue RATs für Word of Blake, ihre Schattendivisionen, Söldner und Milizen.
Mehr Informationen zum mysteriösen "Mr. Askai"
Für Kampagnenspieler ist das auf jeden Fall gut zu hören. Ob sich andere Spieler von dem Buch begeistern lassen, wird sich zeigen. Ich finde es jedenfalls interessant und bin gespannt, was dabei herauskommt.
Total Chaos – Ben H. Rome bloggt mal wieder