Zuletzt aktualisiert am 4. Juni 2012 von DarkISI
Da ich mir auf der RPC das Sword and Dragon – Davion Lanzenset geholt habe, wollte ich auch den Inhalt mal beleuchtet haben. Das heißt, die nächsten Bauanleitungen beziehen sich alle auf das Set.
Beginnen tun wir mit der einfachsten Miniatur aus dem Set: Dem Enforcer ENF-4R (Daniel) aus Starterbook: Sword and Dragon. Beim ENF-4R (Daniel) handelt es sich um eine einzigartige Version des Enforcers, ausgerüstet nachgerüstet für Mechkrieger Daniel Waylen. Bewaffnet ist diese personalisierte Maschine mit einer experimentellen Gauss Rifle, zwei Medium Lasern sowie einem Small Laser. Die Miniatur trifft seine modernere Version den ENF-5D (Daniel) ebenfalls perfekt.
Die nachfolgenden Bauschritte sind relativ kurz erklärt.
Die Verpackung müsst ihr kaum anschauen, da so oder so nur ein einziges Teil enthalten ist: Der fertig zusammengebaute, einteilige Enforcer.
Die wenigen vorhanden Gussgrate müssen entfernt werden, aber das geht schnell (Zeitaufwand: ca 30 Sekunden)
Den packt ihr schnell aus und seid dann so gut wie fertig, ihr müsst lediglich den kleinen Knopf in der Mitte der Base etwas kürzen, damit die Mini stabil steht. Selbst das Anbringen einer Base könnt ihr euch sparen, da die Mini ausgesprochen stabil steht– es wäre auch mit weiterem Feilen verbunden, da die vorhandene Base breiter ist als die Aushöhlung der Plastikbases. (Zeitaufwand: ca. 1 Minute)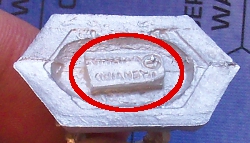 Zur Mini selbst:
Sie ist ausgesprochen detailliert und der Zusammenbau ist denkbar einfach, man hat schließlich nichts zu bauen. Auch die TRO Abbildung ist ziemlich perfekt getroffen, jedoch fehlt – wie so oft – die Antenne die an der linken Seite des Kopfes angebracht sein sollte. Es existiert jedoch die Stelle an der sie angebracht werden sollte, sie lässt sich also wirklich einfach nachrüsten, wenn man einen Draht zur Verfügung hat.
Punkte der Miniatur:
Gussqualität: 10/10
Details: 10/10
Zeitaufwand: 10/10
Passgenauigkeit: 10/10
Abbildungstreue: 9/10
Endnote: 49/50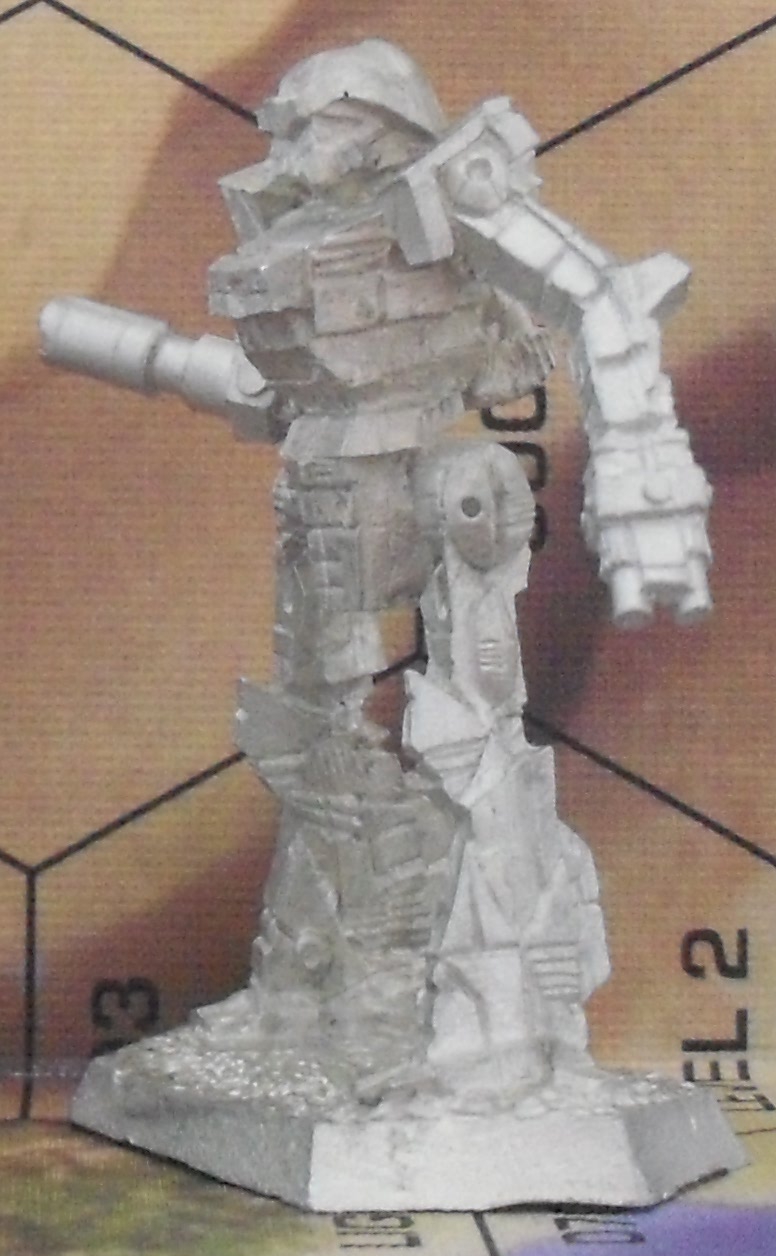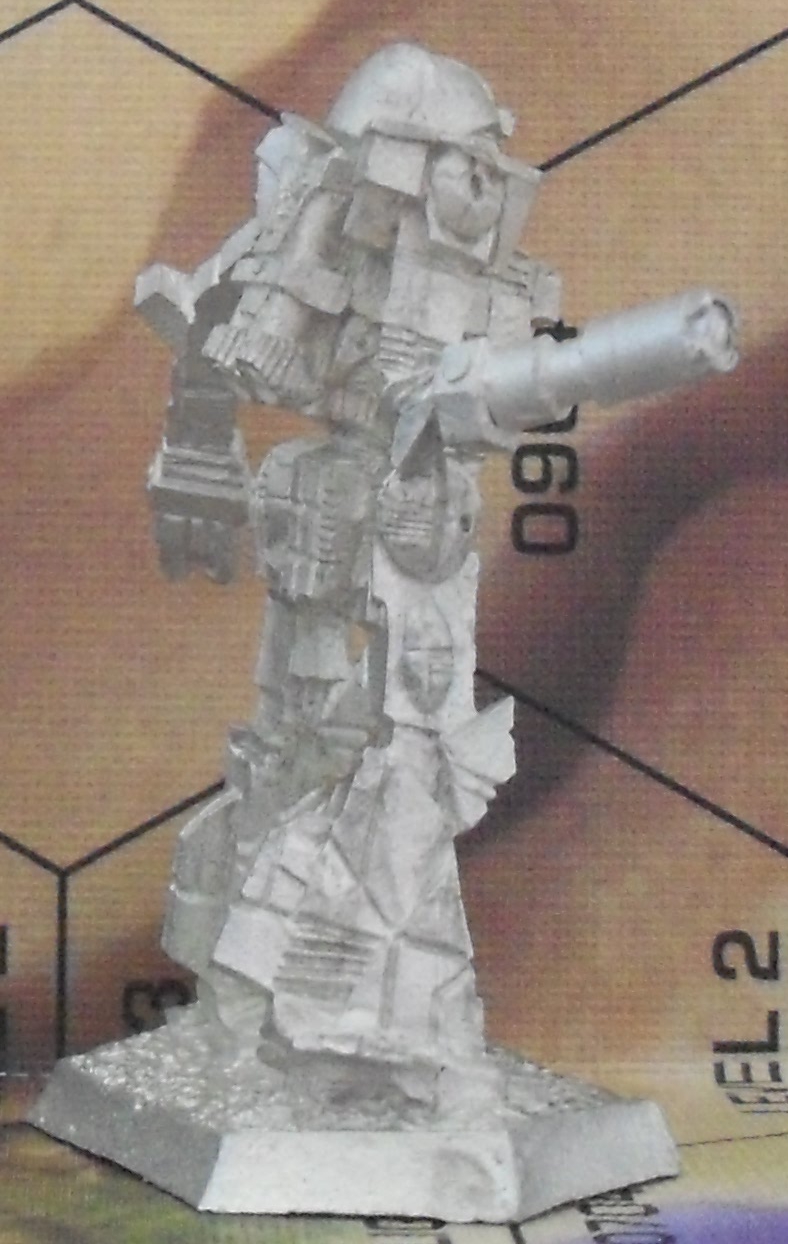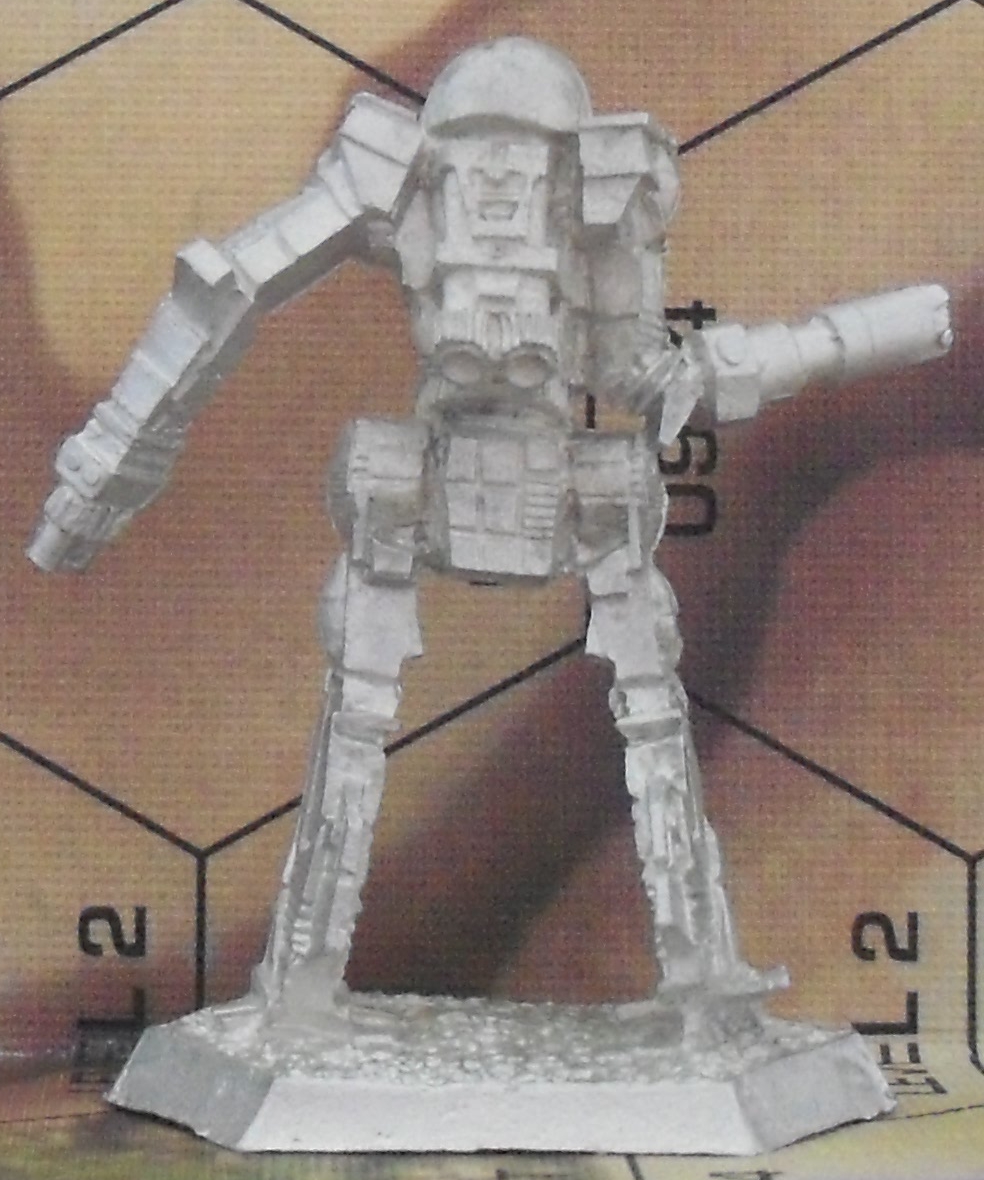 Bauanleitung: Enforcer ENF-4R (Daniel) [Sword & Dragon Davion Lanzenset]