Zuletzt aktualisiert am 14. Februar 2013 von DarkISI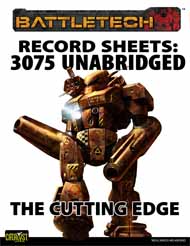 Nach langer Zeit gibt es jetzt ein Update für Record Sheets 3075 unabridged. War es bislang nur ein einzelnes PDF, so sind es jetzt zwei. The Cutting Edge und Age of War, die dafür zusammen deutlich größer sind als das Original und neben den bekannten Record Sheets auch neue Dinge enthalten, wie beispielsweise die langersehnten Battle Armors.
Wer das alte PDF gekauft hat, sollte eine E-Mail erhalten haben und in der Lage sein ein einzelnes PDF, das sowohl Cutting Edge als auch Age of War beinhaltet, kostenlos herunter zu laden, ihr habt damit auch weiterhin Zugriff auf sämtliche alten und neuen Record Sheets. Wer die E-Mail nicht bekommen hat, sollte seinen Spamordner prüfen und sich ansonsten an den Händler wenden, bei dem er das PDF erworben hat.
Previews:
Record Sheets 3075 unabridged – Neue Version(en)