Zuletzt aktualisiert am 5. Dezember 2020 von DarkISI
Fangen wir mit dem RecGuide an, damit diejenigen, die keine massiven Spoiler lesen wollen, hier nicht automatisch darauf stoßen, wenn sie den Anreißertext lesen.
Und ja, ich meine es absolut ernst: Wenn ihr keine riesigen Spoiler darüber lesen wollt, was die IlClan Ära mit sich bringt, dann hört ihr nach dem RecGuide auf zu lesen. Ihr seid gewarnt!
Recognition Guide: IlClan 9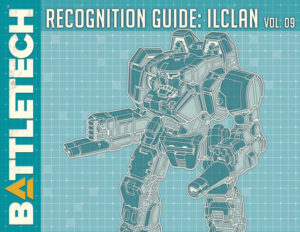 The march of technology across BattleTech's eras is relentless—but some BattleMech designs never die. Each installment of this PDF-only series not only includes a brand new BattleMech or OmniMech, but also details Classic 'Mech designs from both the Inner Sphere and the Clans, now fully rebuilt with Dark Age technology (3085 and beyond). Allowing beloved units redesigned for the BattleTech: Clan Invasion crowd funding campaign to be competitive on "modern" battlefields, this series also includes in-universe development notes, battle histories, notable pilots, and record sheets for each 'Mech. Released as a series of 22 PDF-only documents through the end of 2020 and early 2021, many 'Mechs featured in this series will be collected as a single print volume upon its completion.
Auf Drivethru kaufen: https://www.drivethrurpg.com/product/338350/BattleTech-Recognition-Guide-ilClan-Vol-9
(Da mein Internet gerade eher so mäßig ist, reiche ich die vollständige Liste mit Mechs nach, sobald ich wieder etwas stabileren Zugang zu meinen Dateien habe)
The Icarus Lament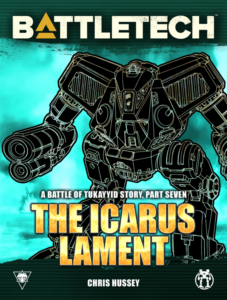 Diesmal geht es in der Tukayyid-Kurzgeschichte um die Steel Vipers.
Star Captain Avedis, an Ice Hellion adopted into Clan Steel Viper, fights alongside Khan Natalie Breen in the nightmarish slog through the Devil's Bath.
The Battle of Tukayyid Experience brings players back to this gargantuan campaign, allowing them to relive one of BattleTech's most pivotal conflicts. Grab the first, all-new short story now and settle in for a new chapter each week, leading up to the release of the Battle of Tukayyid sourcebook, all-new miniatures, and more fiction!
Bei Catalyst kaufen: https://store.catalystgamelabs.com/products/the-redemption-rise-and-fall-of-star-captain-avedis-battle-of-tukayyid-part-7
Kickstarter Update 149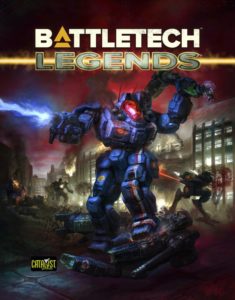 Hier geht es zum vollständigen Beitrag auf Kickstarter. Nachfolgend eine Zusammenfassung. Und ich warne erneut: Klickt auf den Link oder lest die folgenden Zeilen, aber beschwert euch hinterher nich über die massiven Spoiler! (Ich versuche mal noch ein paar spoilerfreie Zeilen zu schreiben, für diejenigen unter euch, deren Augen wandern, ohne dass ihr es wollt.)
Wer links an den Rand guckt und aufmerksam ist hat es übrigens schon gemerkt: Es gibt ein neues Cover.
Es wir ebenfalls ein AMA (Ask Me Anything) am 12. Dezember um 19:00 (deutscher Zeit) geben. Angesetzt sind 2 Stunden und da es einige Tage vor Ende des Pledge Managers stattfindet, gibt euch das nochmal die Chance letzte Fragen zu stellen. Das AMA wird auf Catalysts Youtube-Channel stattfinden.
Battletech: Legends enthält ausschließlich Mechkrieger und Mechkriegerinnen. Ja, Battletech hat auch eine ganze Wagenladung an Charakteren, die wirklich großartig sind, aber keinen Mech steuern. Um die geht es hier in diesem Buch aber nicht. Es geht um die Menschen in den Cockpits der Mechs, weswegen das Buch ursprünglich ja auch MechWarrior: Legends hieß. Alles andere wäre schlicht und ergreifend zu riesig und würde gar nicht in ein Buch passen.
Hier eine Doppelseite aus dem Buch (beide Seiten nochmal größer und geteilt auf Kickstarter).
Und wo sind jetzt die Spoiler? Hier!
Ebenfalls dabei, eine Inhaltsverzeichnis, aufgeteilt in Äras. Jeder Charakter ist in einer Ära untergebrach, in die er oder sie gehört. Mal zwei Beispiele gefällig?
Malvina Hazen: Dark Age Ära
Alaric Ward: IlClan Ära
Ich hatte euch vor Spoilen gewarnt, oder?
Ebenfalls IlClan Ära (und der Teil, der mich persönlich am meisten freut): Kisho Nova Cat
Und Isobel "Bel" Carlyle öffnet die Tür für eine mögliche Wiederbelebung der Grey Death Legion!
Recgnition Guide: IlClan 9 und Kickstarter Update 149: Massive Spoiler inbegriffen