Zuletzt aktualisiert am 29. Oktober 2022 von DarkISI
Wir wissen es ja nun seit letzter Woche, seit gestern ist er nun auch im Handel (sorry, ich war gestern Abend sehr beschäftigt und habe es nicht geschafft, einen Artikel zu schreiben): Recognition Guide 25! (Wenn ihr gerade nicht mehr wisst, was Recognition Guides eigentlich sind, dann erkläre ich euch das hier.)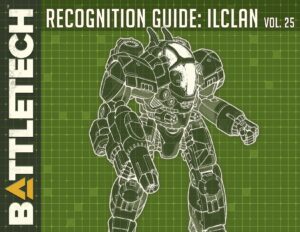 The march of technology across BattleTech's eras is relentless—but some war machines never die. This PDF-only series includes brand-new BattleMechs and OmniMechs, alongside Classic 'Mechs and combat vehicles from both the Inner Sphere and the Clans rebuilt with the latest technology to keep them competitive on modern battlefields. This series also includes in-universe development notes, battle histories, notable pilots, and record sheets for each unit.
Recognition Guide 25 auf

kaufen (PDF)
Es handelt sich diesmal übrigens um den ersten Recognition Guide mit Fahrzeugen.
Folgende Einheiten befinden sich im Recognition Guide 25:
Bulldog (voller Eintrag, 4 Record Sheets)
Demolisher (voller Eintrag, 6 Record Sheets)
Chameleon (mehrseitiger Eintrag, 3 Record Sheets)
Pouncer (voller Eintrag, 6 Record Sheets)
Pegasus (Kurzeintrag, 1 Record Sheet)
Vindicator (Kurzeintrag, 1 Record Sheet)
Wraith (Kurzeintrag, 1 Record Sheet)
Pouncer und Wraith sind auch in der neuen Alpha Strike Box enthalten, die demnächst erscheint und von der ich auch schon ein unboxing Video verlinkt hatte (für eine komplette Mechliste der Alpha Strike Box hier klicken).
Im offiziellen Forum gibt es übrigens einen kleinen Einblick in den Designprozess der neuen Wraith Variante TR5.
Da die Variante in der Alpha Strike Box enthalten sein sollte, wurde sie gezielt für Alpha Strike entworfen. Das Ziel war es, dass die Miniatur sie korrekt darstellt und sie gleichzeitig besser ist als die Standardvariante TR1.
Der TR5 musste entsprechend mit den Einstiegsregeln aus der Alpha Strike Box vollständig kompatibel sein, durfte also keine Specials haben, die darüber hinaus gehen.
Das Ergebnis kann sich sehen lassen und ist sogar unter Classic Battletech Regeln besser als der TR1
Mastodon
Die HPG Station ist nun auch auf Mastodon zu finden. Falls ihr dort also einen Account habt, könnt ihr mir nun dort folgen. Falls ich noch keinen Account habt, dann könnt ihr ihn euch anlegen und mir dort folgen.