Zuletzt aktualisiert am 1. Februar 2021 von DarkISI
Renegade HPG hat ein Interview mit Anthony Scroggins bereitgestellt.
Da die Lesezeichen im Video, warum auch immer, nicht da sind:
00:00​ Introduction
02:28​ How has the Kickstarter influenced line development?
06:51​ Who does what in the production process?
11:20​ Line Art's Role in the Design Process
13:35​ Designing Miniatures for Painting
18:34​ Post-Harmony Gold BattleTech
22:56​ Real-World Mechanics in 'Mech Design
26:57​ Miniature Scale
31:07​ Variants and Materials for Miniatures
39:37​ Tips for the Novice Painter
42:16​ Matching Expectations to Reality
47:26​ Supporting Artists and Finding New Talent
49:21​ Community Support for BattleTech Artists
51:41​ How Patreon could change the face of BattleTech
54:57​ Commission Dos and Don'ts
1:02:47​ Ensuring Artists are Recognized for their Work
1:08:53​ Artists that Inspired Anthony
1:13:34​ Classic vs Modern Production Tools
1:22:08​ A Critique on Lifeless BattleTech Art
1:27:15​ Favorite BattleTech Piece
1:31:38​ First Canon Accurate Timber Wolf
1:33:34​ LEGO BattleTech
1:35:37​ What's Next for BattleTech?
1:40:50​ Parting Thoughts
Viel Spaß
Dir gefällt die HPG Station? Du willst sie unterstützen? Dann hilf, sie zu finanzieren (Webspace kostet Geld und die News hier eine Menge Zeit).
Neben Battletech schreibe ich auch noch andere Bücher: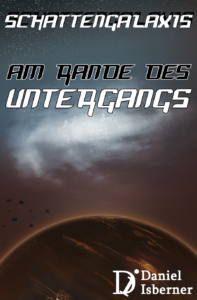 Das Jahr 2270 – Unter der Führung der Terranischen Republik hat sich die Menschheit über die ein Dutzend Kolonien in der Galaxis ausgebreitet. Mittlerweile ist die einstige Heimat der Menschheit, die Erde, heruntergewirtschaftet und halb zerstört. Als sich die Republik doch noch dazu zwingt, ein gewagtes Terraformingprojekt zur Rettung der Erde anzustoßen, kommt es zur Katastrophe.
Der Kontakt zur Erde brach ab und ein Schatten breitete sich über die Galaxis aus, der nach und nach die Kolonien verschlang, bis nur noch eine übrig war. Das Rateri-Protektorat. Auf sich alleine gestellt kämpft die letzte Kolonie um ihr Überleben gegen den geheimnisvollen Feind, ohne zu wissen, dass Verschwörer bereits unter ihnen sind. Mit Feinden von außen und innen auf dem Vormarsch sind die letzten Tage der Menschheit angebrochen. Wenn es einer kleinen Gruppe von Menschen nicht doch noch gelingt, die letzte Kolonie vor dem Schatten zu bewahren.
Renegade HPG – Interview mit Art Director Anthony "Shimmering Sword" Scroggins