Zuletzt aktualisiert am 9. März 2022 von DarkISI
Shrapnel 4 ist jetzt im Handel. Die vierte Ausgabe des Magazins kommt diesmal wieder mit allerlei großartigen Geschichten. Diesmal von Jason Schmetzer, Harper Brand, Faith McClosky, Giles Gammage, Charles Gideon, David Razi, Marc Follin, James Lee, Aaron Cahall, Michael J. Ciaravella, Matthew Cross, Ken' Horner, Craig A. Reed, Jr., Eric Salzman, Joel Steverson und Stephen Toropov.
Darunter auch diesmal wieder einige neue Namen von Fans, die Geschichten eingereicht haben. Ich bin diesmal nicht dabei, war mit anderen Projekten beschäftigt. Das Cover ist übrigens mal wieder so richtig großartig, eine Vergleichsanalyse wird es aber eher nicht geben, gibt ja nichts zum Vergleichen.
Das E-Book gibt es für 5,01 € auf Amazon und für 5,02 € auf Drivethru. Das Taschenbuch für 8,90 €, wie gewohnt, auf Amazon.
Shrapnel: The Official BattleTech Magazine celebrates bravery in all its forms on the triumphant, BattleMech-dominated battlefields of 31st century and beyond! Witness the birth of a new mercenary command in the late Third Succession War, follow a combat medic tackling a precarious injury, learn the true meaning of loyalty during the FedCom Civil War, and track down pirates on a forgotten world in the Periphery. Then don your neurohelmet and push back against the enemy with technical readouts, ghost ship sightings, in-depth technology articles, unit digests, playable scenarios, and more—all from BattleTech veterans and a squad of new authors.
Auf Amazon kaufen.
Auf Drivethru kaufen.
---
Dir gefällt die HPG Station? Du willst sie unterstützen? Dann hilf, sie zu finanzieren (Webspace kostet Geld und die News hier eine Menge Zeit).
Du kannst entweder einem der Links auf der Seite zu Amazon oder Drivethru folgen oder auch gerne PayPal Me nutzen und ein Dankeschön hinterlassen.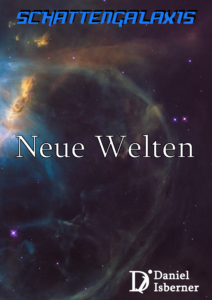 Schattengalaxis – Neue Welten
Im Jahr 2122 startete das riesige Kolonieschiff Neue Welten in die Tiefen des Alls, um mit einer 7.000 Mann starken, zur Hälfte aus Soldaten und Zivilisten bestehenden Besatzung, mit der Besiedlung neuer Welten zu beginnen, doch es kam anders als gedacht.
Nach knapp einem Jahr im Hyperraum entdeckt Dr. Annabelle Armnaissance, dass sich jemand an den Systemen des Schiffes zu schaffen gemacht hat. Jeder an Bord könnte der Verräter sein und sie weiß nicht, wem sie vertrauen kann.
Das Gelingen ihrer Mission steht auf Messers Schneide …
****
153 Jahre später, gestrandet in einem Teil der Galaxis, der von Aliens beherrscht wird und in dem Menschen als minderwertige Außenseiter behandelt werden, nutzt die Crew der Erowans Rache die hochentwickelte kybernetische Technologie der Menschen dazu, um fremde Welten und Technologie längst vergessener und ausgestorbener Aliens zu entdecken.
Die Erkundung eines uralten Bauwerks auf XDV3Z1-7 stellt sich dabei als schwieriger und lebensgefährlicher heraus, als Brian Malcah und sein Team je gedacht hätten …
Als E-Book, Taschenbuch und neu als gebundenes Buch verfügbar
Shrapnel 4 – Jetzt im Handel