Zuletzt aktualisiert am 15. Mai 2021 von DarkISI
MechWarrior 5 wird bekanntermaßen am 27. für Steam erscheinen. Zusammen mit dem DLC Heroes of the Inner Sphere.
Die Preise werden bei 29,99  $ für das Hauptspiel und 19,99 $ für den DLC liegen. Wie genau sie das in Euro umrechnen ist leider nicht angegeben.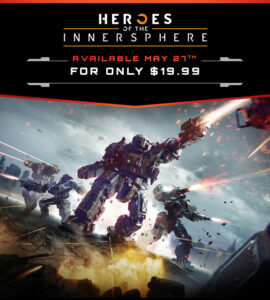 ---
Dir gefällt die HPG Station? Du willst sie unterstützen? Dann hilf, sie zu finanzieren (Webspace kostet Geld und die News hier eine Menge Zeit und irgendwelche Werbebanner oder Trackingcookis will ich absolut nicht hier haben).
Du kannst entweder einem der Links auf der Seite zu Amazon oder Drivethru folgen oder auch gerne PayPal Me nutzen und ein Dankeschön hinterlassen.
MechWarrior 5 und DLC: Steam Release und Preise