Zuletzt aktualisiert am 6. August 2021 von DarkISI
Die digitalen Versionen von Campaign Operations und Strategic Operations wurden aktualisiert und sind nun auf dem neuesten Stand mit aktuellem Errata.
Beide Bücher wurden massiv umstrukturiert. Strategic Operations befasst sich nun vor allem mit den Advanced Aerospace Regeln, während einige der dort entnommenen Teile, wie beispielsweise Wartung, Reparatur etc. in Campaign Operations umgezogen sind. Wo sie auch einfach viel besser reinpassen. Schließlich wollt ihr innerhalb einer Kampagne ja genau das auch machen und nicht ständig zwischen verschiedenen Büchern wechseln.
Der Battleforce-Abschnitt aus Strategic Operations ist derzeit erstmal weg. Er machte in dem Buch nicht wirklich viel Sinn und in Campaign Operations auch nicht. Wo er wieder auftaucht ist schwer zu sagen, allerdings wird ihn, dank Alpha Strike, wohl auch niemand allzu sehr vermissen.
Beide Bücher kommen nun auch erstmal mit den Nostalgiecovern. Das war nun von langer Hand angekündigt und geplant, aber ich muss sagen, es wirkt seltsam. Total Warfare, BattleMech Manual und Alpha Strike: Commander's Edition haben gerade erst neue, moderne Cover bekommen. Und nun werden diese beiden Bücher wieder mit den altbackenen Covern in den Handel gebracht.
Persönlich, hätte ich das anders gehandhabt und hier auf die Nostalgiecover verzichtet. Gleichzeitig sind neue Cover natürlich deutlich teurer und wir wissen alle, dass diese beiden Bücher eher nicht die Verkaufsschlager sind. Allerdings könnte gerade Campaign Operations durchaus interessant für diejenigen sein, die gerade frisch anfangen und ihre eigenen Kampagnen aufbauen wollen.
Aber naja, ist nicht mein Bereich und beeinflussen kann ich es auch nicht. Beide Bücher sind mit 12,66 € nicht sonderlich teuer (als PDF) und werden sicher auch als gedruckte Versionen demnächst beim SciFi Trader auftauchen.
Wer die Bücher schon hat, sollte sich die alten Versionen aber vielleicht zurücklegen. Gerade Strategic Operations, falls ihr die Battleforce-Regeln behalten wollt.
Campaign Operations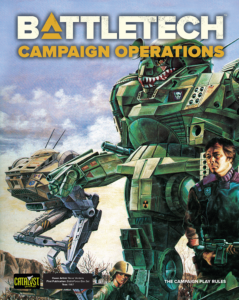 Forge your forces and prepare to fight any battle across the Inner Sphere! Campaign Operations completes the core rulebook series begun in Total Warfare. While previous rulebooks detailed game play at various levels—from a single MechWarrior, to a BattleMech company, to entire armies—this final volume focuses on the forces a player will build and run through any level of play.
Campaign Operations contains rules for creating and running forces, whether a down-on-their-luck mercenary battalion, or a fully-supplied House regiment. The volume also contains complete rules for devising solar systems, allowing players to recreate existing star systems or craft all-new worlds to challenge each other. The final sections of the book bring several options to the table for campaign play. Building off of previous sections in Total Warfare and Strategic Operations, the Narrative Campaign, Map-Based Campaign and Chaos Campaign rules allow players to build exciting, fun campaigns of almost any stripe for their newly-minted forces!
Strategic Operations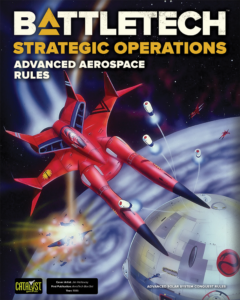 Forces in System
Liftoff planet and conquer an entire solar system! Deploy kilometer-long WarShips as escorts, first for JumpShips bridging the gulf between stars, then for detaching DropShips that burn in system to drop troops onto any battlefield. New aerospace tactics will allow you to gain air supremacy to match your grasp of ground tactics. Yet the war for a star system is more than a single battle and a commander that utilizes his supplies and personnel with skill will survive the numerous battles to come.
Strategic Operations is the one-source rulebook for advanced rules aerospace assets that open the entire conquest of a solar system. It includes new aerospace movement, combat and advanced aerospace unit construction rules, as well as comprehensive maintenance, salvage, repair and customization rules. Finally, a complete game system–BattleForce–allows players to use their existing miniatures and mapsheets to play quick, fast-paced BattleTech games, from companies to battalions and even regiments.
---
Dir gefällt die HPG Station? Du willst sie unterstützen? Dann hilf, sie zu finanzieren (Webspace kostet Geld und die News hier eine Menge Zeit und irgendwelche Werbebanner oder Trackingcookis will ich absolut nicht hier haben).
Du kannst entweder einem der Links auf der Seite zu Amazon, Amazon.com oder Drivethru folgen oder auch gerne PayPal Me nutzen und ein Dankeschön hinterlassen.
Campaign Operations und Strategic Operations – Update