Zuletzt aktualisiert am 16. September 2022 von DarkISI
Ich habe die letzten Tage schon ungeduldig gewartet, weil ich diesmal auch wieder eine Geschichte dabei habe. Flying Kites gibt uns den ersten "echten" Blick auf meinen Attentäter Kafka. Oder sind die Gerüchte, dass es nicht nur eine Person ist doch wahr?
Okay, das kann ich euch gleich vorweg sagen: Die Gerüchte sind wahr. Kafka ist nicht nur eine Person, sondern eine Familie. Die Geschichte fokussiert sich auf einen 13 Jähren Jungen, der Teil dieser Familie ist und sein erste eigenes Attentat ausführt.
Hier den richtigen Ton zu finden war eine spannende Aufgabe. Denn wann muss man sich schonmal in den Kopf eins Dreizehnjährigen versetzen? Und dann auch noch in einen Dreizehnjährigen, der sein Leben lang darauf trainiert wurde, Menschen zu töten. Dass das seine Spuren hinterlässt sollte klar sein. Die Kurzgeschichte hat daher auch bereits im Vorlauf und auch kurz vor Veröffentlichung einige Überarbeitungen erfahren, damit das passt und alle zufrieden sind.
Ich denke, wir haben hier zusammen (Testleser, Lektorat und ich) den richtigen Ton getroffen und viele, viele richtige Entscheidungen getroffen und hoffe, dass ihr die Geschichte genauso spannend findet wie wir.
Und sonst? Was bringt uns Ausgabe zehn sonst noch?
Nun, zum einen ist es die zehnte Ausgabe. Ein großartiges Jubiläum, wenn man bedenkt, dass das Magazin aus dem Kickstarter heraus gestartet ist und erstmal nur auf vier Ausgaben bzw. ein Jahr ausgelegt. Mittlerweile sind wir bei zweieinhalb Jahren und es ist kein Ende in Sicht. Die Fans scheinen das Magazin zu lieben, der Strom an Einreichungen neuer Autoren reißt nicht ab und auch wir eingesessenen Autoren schreiben immer wieder gerne für Shrapnel, weil es eben die Möglichkeit für Experimente liefert. Wo sonst würde ich schließlich eine Kurzgeschichte über eine Attentäterfamilie und besonders über einen dreizehnjährigen Attentäter unterbringen? Oder eine Fortsetzung des Black Marauders? Ja, Lance war wieder fleißig.
Um all das zu feiern, ist Ausgabe zehn daher etwa doppelt so dick wie sonst und enthält einige besondere Geschichten und Artikel.
Von daher, haltet den Mauszeiger bereitet und klickt zum Kaufen, damit ihr dann schnell loslesen könnt. (Derzeit ist das E-Book auf Amazon verfügbar. Das Taschenbuch und Drivethru folgen demnächst.)
[UPDATE]: Drivethru ist verfügbar!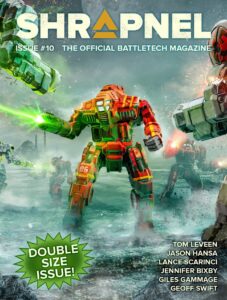 SPECIAL DOUBLE-SIZED ISSUE
MORE BANG FOR YOUR C-BILLS!
Shrapnel: The Official BattleTech Magazine hits harder than ever before, launching a double-size issue filled with more BattleMechs and star-spanning conflicts from the 31st century and beyond! Venture into the Reunification War as the Taurian Concordat fights for freedom against the relentless Star League. Wander through libraries filled with forbidden knowledge lost through centuries of constant warfare. Witness the aftermath of House Arano's bitter civil war, and face down the infamous, unbeatable, all-black Marauder—if you dare…
In this issue, you'll hunt for a missing DropShip in the distant Periphery, and fight for survival during the most pivotal battle in the Clan Invasion. You'll brave the chaotic nuclear fires of the Word of Blake's Jihad and claw your way through Draconis Combine troops threatening your family, determined to survive at any cost.
Fill your double-capacity magazine with a complete novella, technical readouts, a planet and unit digest, playable scenarios, a Clan Invasion campaign, a treatise on troublesome native wildlife, some tips for downtrodden Taurian citizens, and more—all by BattleTech veterans and the next squad of new recruits:
Tom Leveen, Jason Hansa, Lance Scarinci, Jennifer Bixby, Giles Gammage, Geoff Swift, Julian Michael Carver, Matthew Cross, Donavan Dufault, Daniel Isberner, James Lee, Harvey Roberts, Steve P. Vincent, Alayna M. Weathers, James Bixby, Étienne Charron-Willard, Alex Fauth, Joshua Franklin, Ken' Horner, Wunji Lau, Eric Salzman, Jason Schmetzer, Tom Stanley, Joel Steverson, Stephen Toropov
Auf

kaufen (Taschenbuch & E-Book)
Buy on

– International Link (paperback & eBook)
Auf

kaufen (E-Book)
Shrapnel 10 – Jetzt im Handel