Zuletzt aktualisiert am 17. Februar 2023 von DarkISI
Das ist mal eine Meldung mit einschlagender Wirkung. Nicht nur ist der finale Recognition Guide: ilClan erschienen (Ausgabe 32), auch gibt es endlich das Formular zum Anmelden der Mercenaries Kickstarter Launch Parties.
Recognition Guide: ilClan 32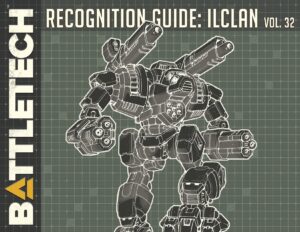 The march of technology across BattleTech's eras is relentless—but some war machines never die. This PDF-only series includes brand-new BattleMechs and OmniMechs, alongside Classic 'Mechs and combat vehicles from both the Inner Sphere and the Clans rebuilt with the latest technology to keep them competitive on modern battlefields. This series also includes in-universe development notes, battle histories, notable pilots, and record sheets for each unit.
Recognition Guide: ilClan 32 auf

kaufen (PDF)
Inhalt:
J. Edgar Light Hover Tank
Drillson Heavy Hover Tank
Von Luckner Heavy Tank
Schrek PPC Carrier
Viper
Blood Asp
IS Standard BA
Vedette
JagerMech
In der offiziellen Ankündigung darf Johannes Heidler (der das Projekt geleitet hat), dann auch nochmal alles Revue passieren lassen. Die Hintergrundinfos sind auf jeden Fall einen Blick wert, daher kriegt ihr hier auch nichts davon zu lesen.
Außer den abschließenden Teil: Der erste Band der Printausgabe (mit den Classic Mechs) nähert sich der Fertigstellung!
Kickstarter Launch Party
Wie oben schon erwähnt, ist das Formular nun online. Ihr könnt es ausfüllen und so eine Launch Party anmelden. Wichtig ist allerdings, dass ihr das nicht einfach so für einen Laden machen könnt. Das muss das Spielegeschäft schon selbst machen.
Mercenaries Kickstarter Launch Party Infos und Recognition Guide 32