Zuletzt aktualisiert am 4. März 2021 von DarkISI
Historical: Operation Klondike ist nun auch als Print on Demand verfügbar.
Bislang war das fast 180 Seiten starke Buch ausschließlich als PDF verfügbar und schließt sich damit nun der Reihe an PDF-Exklusiven Sourcebooks an, die über Drivethru als PoD (Print on Demand) verfügbar sind. Wie üblich wurde dem Buch nichts hinzugefügt, aber Errata eingebunden.
Zusätzlich zum PoD ist das PDF derzeit auch um 40% reduziert (noch bis zum 14. März). Wenn ihr also auch mit der digitalen Version vollkommen zufrieden seid, dann greift zu der. Die gedruckte Variante bietet, wie gewohnt, kostenlos das PDF mit an (sofern ihr es entsprechend auswählt).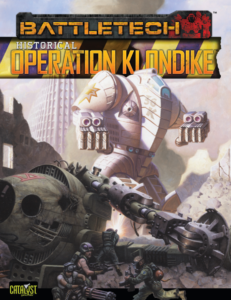 In the wake of the Star League's collapse, Aleksandr Kerensky led the bulk of the SLDF into deep space to escape the inevitable Succession Wars. But war soon came to the "Star League in Exile" anyway, prompting General Kerensky's son Nicholas to form a new society, based on the principles of honor and strength. Fifteen years later, the newborn Clans were unleashed against those who abandoned Kerensky's vision.
Historical: Operation Klondike details the actions of the epic first campaign waged by Nicholas Kerensky's newborn Clans. Identifying all of the founding Clans and their warriors, this book provides a hard look at the nature of early Clan formation, with new units and campaign rules that enable players to replay these critical battles for the Pentagon Worlds.
---
Dir gefällt die HPG Station? Du willst sie unterstützen? Dann hilf, sie zu finanzieren (Webspace kostet Geld und die News hier eine Menge Zeit).
Du kannst entweder einem der Links auf der Seite zu Amazon oder Drivethru folgen oder auch gerne PayPal Me nutzen und ein Dankeschön hinterlassen.
Willkommen in der Schattengalaxis – welche die Menschheit immer wieder vor neue Herausforderungen stellt – immer getrieben vom Eroberungsdrang. Immer weiter in die Tiefen der Galaxis, nicht sehend, welche Chancen und Gefahren dort auf sie warten.
Ob das Erkunden neuer Planeten, der Diebstahl von Waffen, Agentenmissionen, Sabotageakte oder die Bergung uralter Alientechnologie …
In fünf spannenden Geschichten verleihen Jörg Köster, Daniel Isberner, Francis Bergen, Peter Hohmann und Gloria H. Manderfeld der Schattengalaxis eine neue Tiefe.
Historical: Operation Klondike – Jetzt als PoD