"The Infinity Corps" Kickstarter vom Shrapnel Herausgeber Philip A. Lee
Zuletzt aktualisiert am 27. April 2023 von DarkISI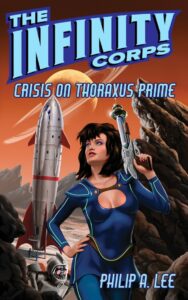 Nachdem wir uns alle vom Battletech: Mercenaries Kickstarter erholt haben, kommt schon der nächste Kickstarter auf uns zu.
Keine Bange, der wird deutlich weniger tief in euer Portemonnaie greifen.
Philip A. Lee, seines Zeichens Herausgeber von Shrapnel, Battletech-Autor und Battletech-Lektor hat einen eigenen Kickstarter gestartet. Es geht um sein eigenes Science Fiction Universum namens The Infinity Corps.
Das erste Buch soll nun über Kickstarter finanziert werden.
Für lediglich 5 $ bekommt ihr das erste Buch Crisis on Thoraxus Moon als E-Book und dazu noch die Kurzgeschichte The Silent Moon als Bonus dazu. Wenn ihr das Buch in gedruckter Form haben wollt, dann seid ihr mit 12 $ dabei. Für eine signierte Ausgabe fallen 25 $ an. Und für 40$ gibt es eine signierte und eine unsignierte Ausgabe.
Mit einem Zielbetrag von entspannten 2.500 $ sollte nicht so viel schiefgehen können.
Aus Europa muss man sich hier natürlich zwei Mal überlegen, ob man für mehr als 5 $ dabei ist, weil der Versand vermutlich im Vergleich unangenehm wird. Das muss an dieser Stelle ehrlicherweise erwähnt werden.
Die Reihe ist natürlich ausschließlich auf Englisch verfügbar, aber das sind wir von Battletech ja mittlerweile gewohnt.
Stretch Goals
Wie von Kickstarter gewohnt gibt es natürlich auch einige Stretch Goals.
Bei 3.000 $ gibt es eine zusätzliche Kurzgeschichte (Engineered Chaos)
Wenn die Kampagne 3.500 $ erreicht gibt es für alle Unterstützer ab Junior Lieutenant (12 $) ein Lesezeichen
Ab 4.000 $ gibt es einen Pin als Add-On
Und wenn 5.000 $ erreicht werden, gibt es ein Modell des Raumschiffs RX-37, das immerhin auf 21 Zentimeter Höhe kommt.
Alles in allem eine kleine und feine Kampagne. Und wir wissen ja alle, dass Phil wirklich gute Bücher schreibt.
Hier findet ihr die Kickstarter-Kampagne.
DEBUG : (no lazy loading) Metis pixel added https://vg09.met.vgwort.de/na/7cb92181709345fe892866332942cfb6