Zuletzt aktualisiert am 1. Juni 2023 von DarkISI
Die letzte Zeit war etwas voll gepackt, daher war die Postfrequenz niedrig. Dabei ist so viel passiert. Ich mache daher einen kleinen, zusammengefassten Updatepost daraus. Mal schauen, ob der wirklich so klein wird.
Als erstes gibt es ein paar Updates zum Kickstarter.
Pledge Manager ist Live
Der Pledge Manager ist nun offen und sollte für alle verfügbar sein. Wenn ihr keine E-Mail bekommen habt, dann wurde sie höchstwahrscheinlich vom Spamfilter gefressen. Legt euch in dem Fall einen Backeraccount auf Backerkit an. Nutzt dabei dieselbe E-Mail Adresse, die ihr auch auf Kickstarter benutzt. Dann solltet ihr Zugriff auf euren Pledge Manager haben. Falls ihr schon einen Account habt, logt euch einfach ein.
DropShips im Pledge Manager
Falls ihr euren Pledge Manager noch nicht geschlossen habt, dann sind die neuen DropShips für euch vielleicht von Interesse.
Womöglich erinnert ihr euch daran, dass Randall sie bereits in einem der AMAs angekündigt hatte. Vielleicht auch nicht. Das ist okay. Nun sind sie aber da. Hier der Originaltext des Overlord aus dem Pledge Manager:
It's not often an item gets better AND less expensive, but our friends 
over at Ironwind Metals managed to assist us in doing so.

Replacing the resin DIY model kit offered in the Clan Invasion campaign 
is this (plastic) UNION map-scale DropShip. Detail levels are 
incredible. It measures approximately 3.6" at the circumference, 
slightly smaller in volume than the resin kit in order to preserve scale 
difference with the OVERLORD class DropShip (also being offered in this 
Pledge Manager).

-----------------------------------

Introducing  the OVERLORD map-scale DropShip. Detail levels are 
incredible. It measures approximately 4" at the circumference and 5.5" 
high, about 12% larger than the UNION class DropShip (also being offered 
in this Pledge Manager).

[Dimensions may change slightly as this item is in final tooling.]

This item is being offered early, as part of this campaign, in order to 
assist the owners of Ironwind Metals in their battle against late stage 
metastatic lung and brain cancer. All profit will be donated to medical 
expenses.

Ich möchte euer Augenmerk dabei vor allem auf den letzten Teil des Texts richten. Wie ihr euch vielleicht erinnert, kämpft Melissa Noe (Besitzerin von IWM und diejenige, die immer super freundlich und kompetent eure Kundenfragen beantwortet) mit Lungenkrebs und einem Hirntumor. Alle Gewinne aus dem Verkauf dieser DropShips über den Pledge Manager gibt Catalyst weiter an Melissa und ihre Familie, um sie im Kampf gegen die Krankheit zu unterstützen.
Neben dem Overlord sind auch noch ein Union und die Clanversion des Overlord verfügbar.
Falls euer Pledge Manager schon geschlossen ist, braucht ihr euch aber keine Sorgen zu machen. Catalyst wird ihn für alle nochmal öffnen, damit ihr vor Abschluss der Pledge Manager Zeit nochmal Dinge nachtragen könnt. Dann kommt ihr also auch an die DropShips.
Battletech Pride Anthology – Fanzine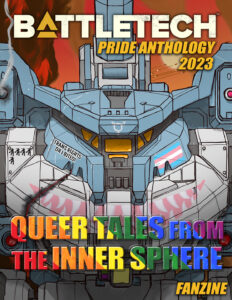 Zu guter Letzt noch ein Hinweis auf ein Fanmagazin. Die Battletech Pride Anthology.
Die Pride Anthology wurde im Zuge des Pride Month veröffentlicht und enthält 5 Fangeschichten zu Battletech, die sich alle mit dem Thema Queer befassen, in der einen oder anderen Form.
Die Anthologie ist komplett kostenlos und als PDF, epub und mobi verfügbar. Sie umfasst insgesamt 82 Seiten.
Pride Anthology is a fanzine celebrating the diversity and inclusiveness of Battletech. It features five short stories from LGBTQ folks for LGBTQ folks and people hoping to read more queer oriented stories set in the Battletech Universe.

Story index:

Masquerade, Robin Briseño
Small, Albert Ross
Test Drive, Allen Nickloy
Dragon Slayer, Milla Koponen
Old Wounds, Old Words, Russell Zimmerman

Cover art by Samantha Richardson
Pride celebration art by Jordan Bowlby

This is the first Pride Anthology, released in Pride Month, 2023.

Enjoy! <3

https://prideanthology.itch.io/2023
Kickstarter Update & Pride Anthology
DEBUG : (no lazy loading) Metis pixel added https://vg06.met.vgwort.de/na/8e1bf454d66547bbb3a1c538e6effdf6