Zuletzt aktualisiert am 29. Juli 2020 von DarkISI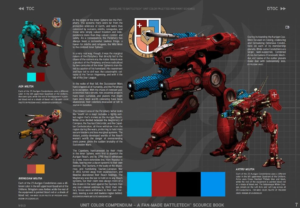 In der Facebook Gruppe "BattleTech Mechbörse Deutschland" lädt Matthias "Mimo" Hess dazu ein, sich einer Sammelbestellung des Unit Color Compendium und Delranes Fighting Ships of 3061 anzuschließen.
Beim Unit Color Compendium handelt es sich um ein Fanprodukt, das Einheitenschemas aufzeigt. Es ist inoffiziell und als PDF verfügbar. Das gleiche gilt auch für Delranes Fighting Ships of 3061. Diese PDFs würde er drucken lassen und an die Teilnehmer der Bestellung verschicken.
Hier sein Text dazu (Facebooklink):
Hallo, ich würde das Unit Color Compendium (288 Seiten) und Delranes Fighting Ships of 3061 (128 Seiten) als DIN A4 Hardcover mit 170g Papier drucken lassen.

Preislichen würden wir bei ca. 25€ für das UCC und 15€ für das Delranes liegen. Wir-machen-Druck bietet aber nur 5 Schritte an, also kann sowohl sein, dass wir etwas billiger oder etwas teurer wegkommen.

Noch ein Hinweis, ich habe die Bücher nicht selbst erstellt. Ich biete hier nur den Sammeldruck an ohne das ich selbst die genaue Qualität des Ergebnisses kenne. Als Beispiele aus den PDFs habe ich euch ein Bild aus dem UCC und ein Schiff aus dem Delranes angehängt.

Preis versteht zuzüglich Versand zu euch
Unit Color Compendium & Delranes Fighting Ships of 3061 – als gedrucktes Buch