Zuletzt aktualisiert am 16. Dezember 2020 von DarkISI
Uff, diesmal wieder viel (was bin ich froh, dass ich nur noch zusammenfasse und nicht mehr komplett übersetze). Um nach der Verlängerung des Pledge Managers noch die ganzen Sachen unterzubringen, die fehlen, hat Catalyst sich diesmal wirklich nicht mit Inhalt lumpen lassen.
Wer das vollständige Update lesen will: hier entlang.
Deadlines
Randall gibt uns einen Einblick darin, welche Deadlines für Wave 2 einzuhalten waren und was für ein massiver Aufwand das war. In kürzester Zeit mussten Dinge fertig werden (da es nur begrenzt viel Personal, Autoren etc. gibt zum Teil wirklich auf den letzten Drücker, habe da ja auch Sachen von geschrieben), damit Wave 2 pünktlich in den Druck kann.
Das ging bis hin zu Nachdrucken von älteren Produkten (und dem damit einhergehenden Errata, das rein muss), weil Battletech sich derzeit verkauft wie geschnitten Brot und erst vor kurzem gedruckte Bücher schon wieder ausverkauft sind (oder nahezu).
Lost Destiny Cover
Das Cover war noch nicht fertig als wir letzte Woche die anderen Cover für die gebundenen Bücher gesehen haben. Darum wird es nachgereicht.
Reinforcements: Clan Invasion
Das Cover für diese Box kann getrost als Nachfolger für Battletech Reinforcements: Additional Units for Battletech betrachtet werden.
Was sie bietet?
Pappaufsteller für sämtliche Mechs aus der Intro Box, A Game of Armored Combat, Clan Invasion Box und alle Wave 1 und Wave 2 Minis und eine doppelseite Twycross-Map (Great Gash und Plain of Curtains). Zusätzlich gibt es Fahrzeugmarker und welche für Diabolis Stürme (für die Plain of Curtains Map). Die Fahrzeugmarker lassen sich super mit den Battlefield Support: Combined Arms Regeln aus Battle of Tukayyid kombinieren.
Zu guter Letzt ist der Preis im Kickstarter niedriger als später im Handel, um die Doppelungen zu kompensieren, die wir Backer bei den Aufstellern haben, weil wir die Wave 1 Aufsteller ja auch an anderer Stelle als Teil der Pledge Level bekommen. (30 $, statt 40 $)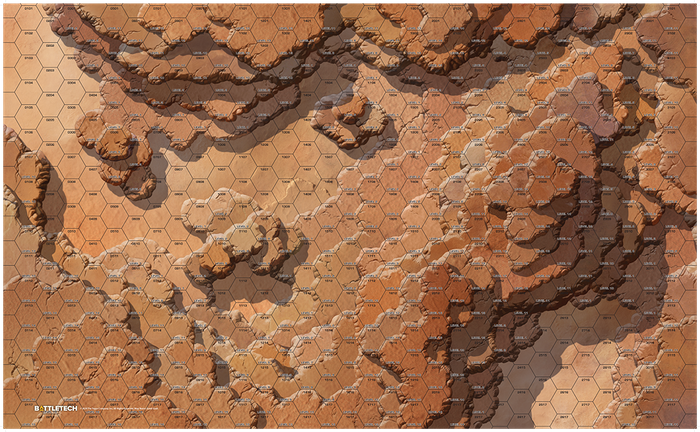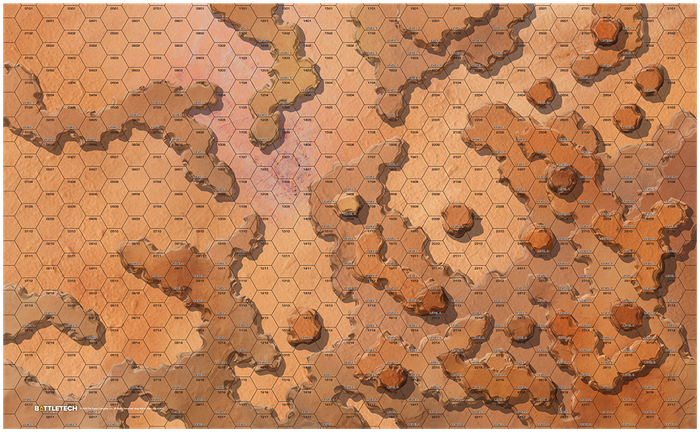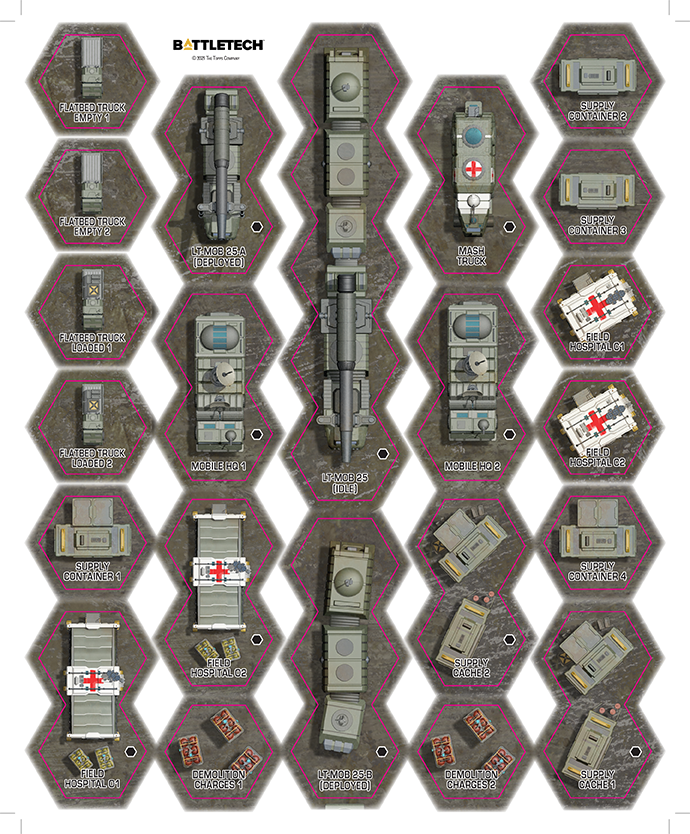 Tactical Dice
Catalyst benutzt die gleiche Firma wie auch für die anderen Würfel des Kickstarters. Ja, das klingt im ersten Moment schockierend, aber sie haben bislang gute Erfahrungen mit der Firma gemacht und wollen die Geschäftsbeziehungen nicht wegen einem Vorfall beenden. Als Beispiel dafür kriegen wir Shadowrun-Würfel zu sehen.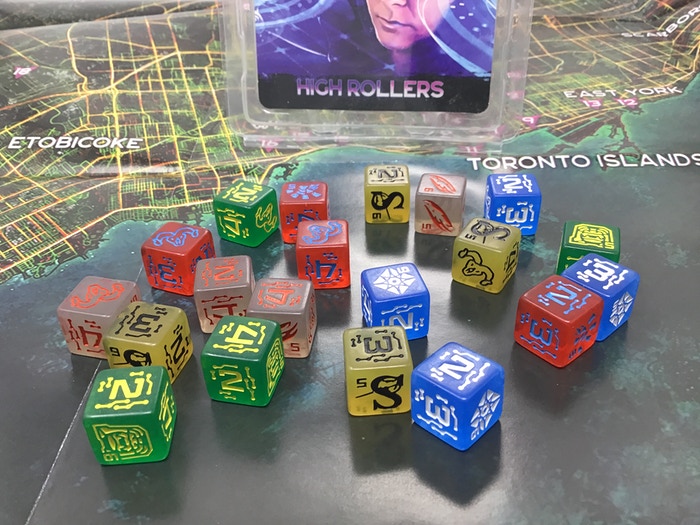 Was die Tactical Dice selbst angeht: Sie kommen in 3 verschiedenen Farben und unterschiedlichen Größen. Ich hatte auf mehr Infos auf den Würfeln selbst gehofft (mir fehlen hier Modifikatoren und generell …. alles) und werde sie daher nicht bestellen.
Strana Mechty Battlemat
Hier kriegen wir wieder einen vollständigen Einblick in die Entwicklung der Karte, dafür müsst ihr aber auf das Update bei Kickstarter selbst. Ich zeige euch nur die fast fertige Karte (es werden noch ein paar Ausbesserungen vorgenommen, aber im Grunde ist das die fertige Karte).
Wir kriegen Bloody Basin (hier hat Victor Steiner-Davion Clan Smoke Jaguar endgültig geschlagen) und Circle of Equals (Kreis der Gleichen). Letzteres ist, wie von Anfang an angekündigt) nur ein halber Kreis und muss für einen vollen Kreis doppelt besorgt werden. Einen vollständigen Kreis der Gleichen auf eine einzelne Battlemat zu packen wäre tatsächlich viel zu eng und nicht wirklich spielbar.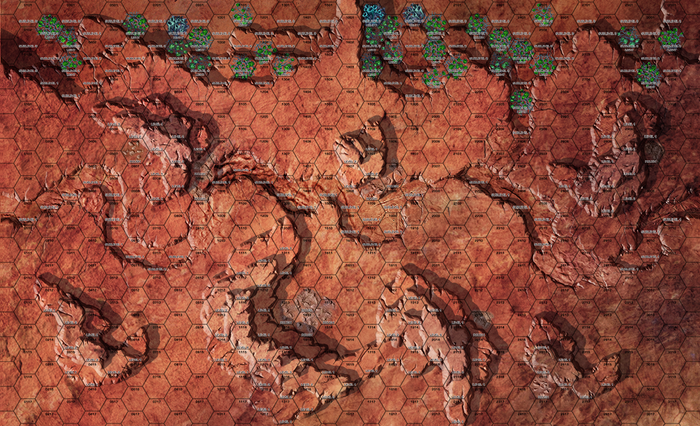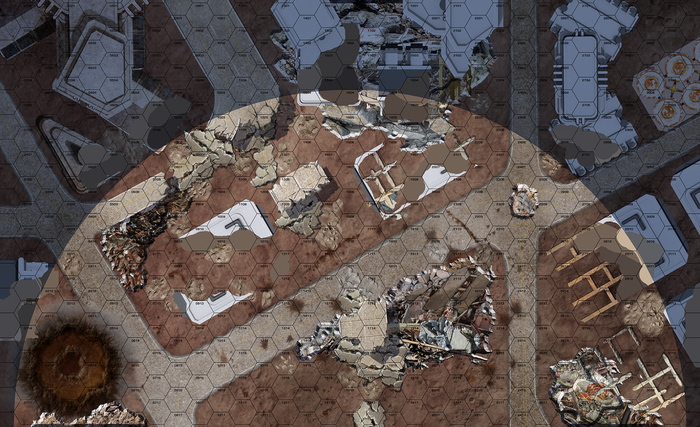 So, das war es diesmal. Ich hoffe, euch gefällt es.
---
Shrapnel #3 – Jetzt im Handel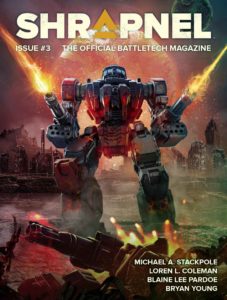 Shrapnel: The Official BattleTech Magazine brings you more BattleMech action from the war-torn 31st century and beyond! Celebrate Star League Day with tales of a long-abandoned 'Mech rediscovered and pressed into service, a quest for vengeance in enemy territory, the resurgence of old ghosts, and the threat of bitter betrayal in the face of long odds. Charge headlong into technical readouts, assassin conspiracies, in-depth equipment articles, playable holiday-themed scenarios, and more—all from BattleTech veterans, fan favorites, and new authors:
Michael A. Stackpole, Loren L. Coleman, Blaine Lee Pardoe, Bryan Young, Bryn Bills, Charles Dalmas, Chris Hussey, Daniel Isberner, Alex Kaempen, Craig A. Reed, Jr., Eric Salzman, Lance Scarinci, David Smith, Tom Stanley
Auf Amazon kaufen (aktuell nur E-Book): https://amzn.to/2IUAdKc
Auf Drivethru kaufen (Kindle und epub): https://www.drivethrufiction.com/product/340106/BattleTech-Shrapnel-Issue-3?affiliate_id=295148
Kickstarter Update 152: Lost Destiny Cover, Tactical Dice, Strana Mechty, Deadlines und Reinfocements: Clan Invasion