Zuletzt aktualisiert am 1. März 2023 von DarkISI
Dass wir wohl noch ein Überraschungsforcepack bekommen hatten wir schon mitbekommen. Was es wohl sein würde, aber noch nicht.
Ray Arrastia (seines Zeichens Battletech Line Developer) hat nun mehr Details für uns. Es wird ein Proliferation Force Pack geben. Mit den folgenden sieben Minis (eine für jede Geschichte im Proliferation Cycle):
Mackie, Ymir, BattleAxe, Gladiator, Icarus II, Firebee & Coyotl
Das ist ein wirklich unerwartetes Force Pack.
Wenn ihr jetzt nochmal schnell den Proliferation Cycle lesen wollt, dann geht es hier entlang: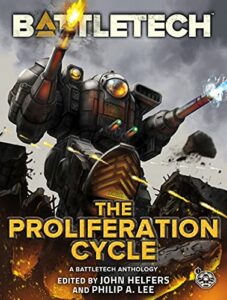 THE DAWN OF A NEW AGE…
In the 25th century, humankind is locked in a seemingly endless cycle of warfare as each of the Great Houses seeks to expand their holdings at the cost of the others. But in 2438, the Terran Hegemony perfects a battle system unlike anything seen in combat before—the Mackie, the very first BattleMech. With it, the Hegemony quickly reigns supreme on the battlefield.
The Mackie's arrival sets off a desperate arms race among the Great Houses, each desperate to possess the BattleMech's secrets. Some houses will use military force to steal them, others resort to stealthy espionage teams to infiltrate highly secured BattleMech facilities. Still other Houses will use diplomacy, or even corporate espionage to get their hands on the coveted plans or the men and women who can build a BattleMech.
Now, collected for the first time, stories by celebrated BattleTech authors Ilsa J. Bick, Herbert A. Beas II, Christoffer Trossen, Randall N. Bills, Chris Hartford and Jason M. Hardy, Jason Schmetzer, and Blaine Lee Pardoe—who wrote a brand-new novella about the creation of the Coyotl, the first OmniMech—tell how BattleMechs were invented in one complete volume.
Welcome to The Proliferation Cycle.
Auf

kaufen (Taschenbuch, Gebundenes Buch & E-Book)
Buy on

– International Link (papberback, hardcover & eBook)
Auf

kaufen (E-Book)
Neues Force Pack: Proliferation Pack