Zuletzt aktualisiert am 21. Dezember 2020 von DarkISI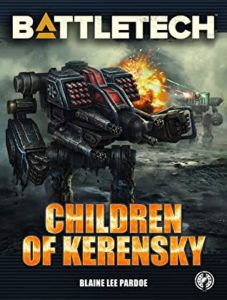 Natürlich habe ich mir dieses Buch sofort nach Erscheinen als Print on demand  über den Link hier bei der HPG Station zugelegt. Alleine schon weil es der letzte Roman ist vor Hour of the Wolf, ab dem wir endlich endgültig seit langer Zeit wieder Neuland betreten im Battletech Universum.  Und ich finde es ist sehr schön gemacht, all die Bücher die in letzter Zeit erschienen sind und den Weg zum IlClan ebnen und allerlei Facetten beleuchten die dafür eine Rolle spielen.
So, jetzt aber zu Children of Kerensky (Achtung, Spoiler-Alarm!)
Das Buch ist meiner Meinung nach absolut lesenswert. Es beleuchtet den Werdegang von Alaric Ward und Malvina Hazen von den Tagen in der Geschko bis hin zum Beginn der Invasion auf Terra, und erläutert dabei ein wenig, wie die beiden zu Ihren jeweiligen Weltanschauungen gekommen sind und was sie antreibt. Man erfährt vor Allem viel über die Hintergründe der Planung für die Invasion. Dabei hat mich wirklich erstaunt, wie früh sich Alaric und Malvina sicher waren, dass sie Terra erobern und den IlClan ausrufen wollen, nämlich schon relativ direkt nach dem HPG-Blackout, bzw. da fangen dann schon die ganz konkreten Planungen und Rekrutierungen usw. an.
Manches mag etwas konstruiert wirken, wenn man bedenkt wie die Story teilweise im Dark Age erzählt wurde (ich glaub/weiß nicht ob man da schon mit einem IlClan geplant hatte), aber letztlich finde ich es insgesamt sehr schlüssig geschrieben, so als hätte man "damals" gewisse Infos weg gelassen um nicht zu früh zu viel zu verraten.
Mehr ins Detail gehen möchte ich nicht, holt euch lieber das Buch falls ihr es nicht schon längst habt und zählt danach wie ich die Stunden bis es endlich am 1. Januar 2021 (Bzw. 3151 ;)) weitergeht mit der großen Story.
Review zu Children of Kerensky