Zuletzt aktualisiert am 14. Februar 2021 von DarkISI
Mittlerweile steht fest, wo das AMA (Ask Me Anything) zu Hour of the Wolf stattfinden wird: auf Youtube.
Solltet ihr zu dem Termin (20.02. 20:00 – 22:00) keine Zeit haben, aber trotzdem Fragen stellen wollen, dann kann ich sie gerne für euch stellen. Schreibt sie dazu einfach in die Kommentare.
[UPDATE]
Mittlerweile steht fest, wer anwesend sein und Fragen beantworten wird:
Blaine Lee Pardoe, author, Hour of the Wolf
John Helfers, Executive Editor, Catalyst Game Labs
Brent Evans, Art Director and former BattleTech Line Developer, Catalyst Game Labs
Philip A. Lee, editor, Hour of the Wolf
---
Dir gefällt die HPG Station? Du willst sie unterstützen? Dann hilf, sie zu finanzieren (Webspace kostet Geld und die News hier eine Menge Zeit).
Wenn du ein Kind kennst, das gerade etwas zu lesen gebrauchen kann, dann ist hier der perfekt Weg zur Unterstützung: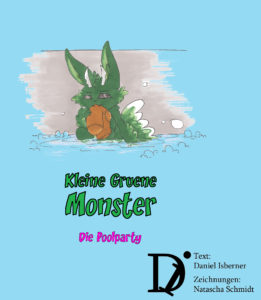 Kleine Grüne Monster – Die Poolparty
Habt ihr euch schon immer gefragt, wohin eure Socken verschwinden, wenn ihr sie einfach nicht mehr wiederfinden könnt?
Sie werden von Kleinen Grünen Monstern gefressen, die in Kleiderschränken wohnen. Normalerweise verstecken sie sich gut und lassen sich nicht sehen, aber meines habe ich kennengelernt und gemeinsam erleben wir lustige Abenteuer.
Heute will Kleines Grünes Monster eine Poolparty feiern — in meiner Badewanne.
PS: Es gibt jetzt auch eine englische Version.
Kurzmeldung: "Hour of the Wolf" AMA findet auf Youtube statt. [UPDATE]