Zuletzt aktualisiert am 12. Februar 2021 von DarkISI
Heute ist Mercenary's Star (Gray Death Legion Saga 2) als Hörbuch erschienen. Gesprochen wird es von Tren Sparks, der auch schon die Audiobooks für Decisions at Thunder Rift, Embers of War und Forever Faithful gesprochen hat.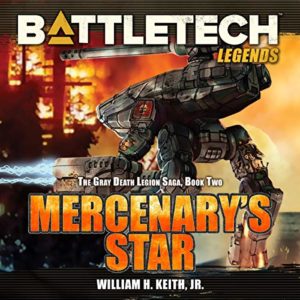 Backs against the wall…
Galatea. The Mercenary's Star. Even the most down on their luck units can find work here. Leading the newly-formed Gray Death Legion has been challenging for Grayson Death Carlyle, so when a job comes their way, he's only too happy to take it. The mission: train the local resistance on the planet Verthandi to resist their Draconis Combine masters.
But things do not go well almost from the moment the Legion arrives. Trapped on Verthandi and facing a superior force and a fractured populace, the men and women of the Legion find themselves in a situation that makes the campaign on Trellwan look like a walk in the park. And Grayson quickly learns that repeating his past successes may not be so easy this time…
Das Hörbuch gibt es entweder im Audible Abo für 9,95 € im Monat oder 22,71 € ohne Abo.
---
Dir gefällt die HPG Station? Du willst sie unterstützen? Dann hilf, sie zu finanzieren (Webspace kostet Geld und die News hier eine Menge Zeit).
Wenn du ein Kind kennst, das gerade etwas zu lesen gebrauchen kann, dann ist hier der perfekt Weg zur Unterstützung: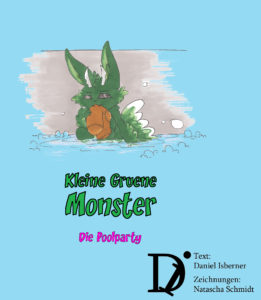 Kleine Grüne Monster – Die Poolparty
Habt ihr euch schon immer gefragt, wohin eure Socken verschwinden, wenn ihr sie einfach nicht mehr wiederfinden könnt?
Sie werden von Kleinen Grünen Monstern gefressen, die in Kleiderschränken wohnen. Normalerweise verstecken sie sich gut und lassen sich nicht sehen, aber meines habe ich kennengelernt und gemeinsam erleben wir lustige Abenteuer.
Heute will Kleines Grünes Monster eine Poolparty feiern — in meiner Badewanne.
PS: Es gibt jetzt auch eine englische Version.
Neues Hörbuch: Mercenary's Star