Zuletzt aktualisiert am 18. Mai 2021 von DarkISI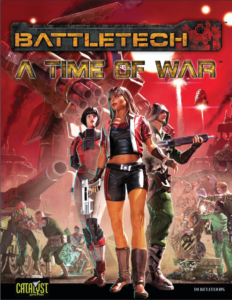 Bei Bundle of Holding gibt es derzeit ein A Time of War Bundle zu kaufen.
Für 12,95 $ gibt es A Time of War, A Time of War Companion und 25 Years of Art and Fiction.
Für insgesamt 26,17 $ bekommt ihr zusätzlich die Era Reports 3052, 3062 und 3145 sowie Necromo Nightmare, Empires Aflame und War of the Tripods.
Zehn Prozent des bezahlten Beitrags (nach Abzug von "Gateway Fees" (was auch immer das ist)) gehen an Direct Relief, die damit medizinische Ausrüstung und mehr an medizinische Einrichtungen in den USA und Kanada schicken.
Bundle of Holding: A Time of War