Zuletzt aktualisiert am 29. Juni 2021 von DarkISI
Catalyst hat die nächste Neuauflage eines Dark Age Romans in den Handel gebracht. Der dritte (und letzte) Band der Proving Grounds Trilogie (Service for the Dead) ist nun sowohl als E-Book als auch als Taschenbuch auf Amazon und Amazon.com verfügbar. Drivethru ist noch nicht online nun auch verfügbar.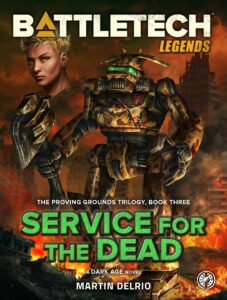 TARGET: TERRA
The world of Northwind has been ravaged in the fierce battle between the Highlanders and the Steel Wolves—and now the Clan warriors have set their sights on Terra. The fate of the birthplace of humankind now rests in the hands of three very different MechWarriors:
Ezekiel Crow: Betrayer of the Highlanders—and on the run from both political and military enemies.
Anastasia Kerensky: Ruthless leader of the Steel Wolves—and if she has her way, the next Conqueror of Terra.
Tara Campbell: embattled Countess of the Northwind Highlanders—and Terra's only hope in its most desperate hour.
A desperate three-way race ensues to see who will be the first to reach Terra…and who will ultimately claim it….
Auf Amazon kaufen (E-Book und Taschenbuch)
Buy on Amazon.com (eBook & paperback)
Auf Drivethru kaufen (E-Book)
Service for the Dead – Jetzt im Handel