Zuletzt aktualisiert am 27. August 2021 von DarkISI
Wie schon mitgeteilt, sollen wir ja noch dieses Jahr sämtliche der alten Dark Age Romane in neuer Auflage im Handel haben. Damit das funktioniert, muss das natürlich Schlag auf Schlag gehen. Und so ist es dann auch: Blood of the Isle ist nun verfügbar.
Wie gewohnt ist das E-Book auf Amazon zuerst online und die gedruckte Ausgabe folgt dann zeitnah.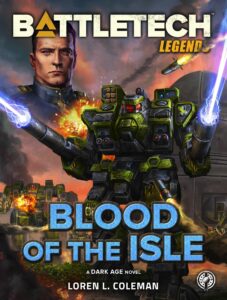 IN THE FALCON'S CLAWS…
Skye struggles to rise from the ashes of the last Jade Falcon assault. Tara Campbell's Highlanders are limping back from battles fought all across the Prefecture. And Anastasia Kerensky's Steel Wolves have disappeared again. It's a matter of when—not if—the Falcons will renew their brutal assault, and Skye is unprepared.
On the world of Nusakan, Landgrave Jasek Kelswa-Steiner appears to be Skye's only chance for salvation. Gathering his Stormhammers, he prepares to throw his force into the teeth of the Falcon advance. But will the cure be worse than the disease? Jasek passionately advocates a return to House Steiner, a political movement his father just as passionately opposes.
Unfortunately for the Republic, desperate times call for desperate alliances—and the Jade Falcon force is still spoiling for battle. Clan Jade Falcon will not rest until Skye is conquered…or reduced to a charred cinder.
Auf Amazon.de kaufen (Taschenbuch & E-Book)
Buy on Amazon (international link to YOUR Amazon) (paperback & eBook)
Auf Drivethru kaufen (E-Book)

Blood of the Isle – Jetzt im Handel