Zuletzt aktualisiert am 29. Oktober 2021 von DarkISI
Das Hörbuch zu Entscheidung am Thunder Rift ist jetzt auch auf Amazon über Audible verfügbar. Denkt auch daran, es gibt derzeit kostenlose Audible Probeabos.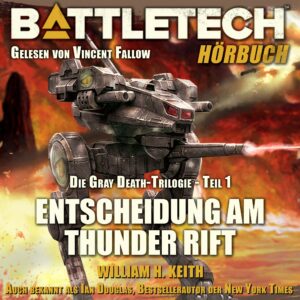 Sie sind bis zu 15 Meter hoch, wiegen bis zu 75 Tonnen und speien Tod und Vernichtung – die riesigen von Menschen gesteuerten Kampfmaschinen, die BattleMechs des 31. Jahrhunderts.
Das Sternenreich der Menschen ist zerfallen. Angeheuerte Söldnerhaufen ziehen mit ihren Stahlkolossen in die Schlachten der sogenannten Nachfolgekriege. Die Piloten der BattleMechs sind tollkühne Männer und Frauen, die für Geld ihre Haut zu Markte tragen, und viele von ihnen finden den Tod, weil ihre Kampfmaschinen veraltet und dem konzentrierten Feuer aus Laserwaffen und Raketen nicht immer gewachsen sind.
Grayson Death Carlyle ist seit seinem zehnten Lebensjahr zum Mechkrieger ausgebildet worden, und als sein Vater fällt, hat er die Führung über das BattleMechRegiment zu übernehmen, die Gray Death Legion, das Vertrauen seiner Mitkämpfer zu gewinnen und in die Fußstapfen seines Vaters zu treten, der einen legendären Ruf als BattleMech-Pilot hatte.
Auf Amazon.de kaufen (E-Book & Hörbuch)
Buy on Amazon – Internation link to YOUR Amazon (eBook & audiobook)
Ebenfalls ist seit gestern der zweite Band des Proliferationszyklus verfügbar.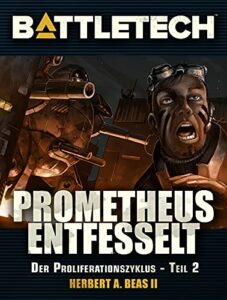 DER KAMPF UM DIE VORHERRSCHAFT DER BATTLEMECHS GEHT WEITER
Fünfzehn Jahre, nachdem die Terranische Hegemonie erstmals den Mackie, den allerersten BattleMech zum Einsatz brachte, hat dieses Große Haus die anderen Häuser der Inneren Sphäre nach Belieben vor sich hergetrieben. Jeder, der den Versuch unternahm, gegen die Terraner und ihre Todesmaschinen anzugehen, wurde komplett besiegt. Doch es gibt andere Wege, das Schlachtenglück auszugleichen.
Und das Lyranische Commonwealth ist drauf und dran, dabei eine der ältesten Strategien überhaupt einzusetzen: Wenn du es nicht schlagen kannst, nimm es ihnen weg. Ein Spezialeinsatzkommando wurde mit seiner bis dahin gefährlichsten Mission betraut: Infiltration einer schwer befestigten terranischen Welt und Diebstahl der Pläne des terranischen BattleMechs. Abgesehen davon, dass die Chancen für dieses Unternehmen alles andere als gut stehen, kämpft der Anführer des Teams auch noch gegen seine ganz eigenen Dämonen – solche, die zwölf Meter hoch aufragen und bei jedem Schritt den Boden erbeben lassen …
Auf Amazon kaufen (E-Book)
Buy on Amazon – International link to YOUR Amazon (eBook)
---
Dir gefällt die HPG Station? Du willst sie unterstützen? Dann hilf, sie zu finanzieren (Webspace kostet Geld und die News hier eine Menge Zeit und irgendwelche Werbebanner oder Trackingcookis will ich absolut nicht hier haben).
Du kannst entweder einem der Links auf der Seite zu Amazon.de, Amazon (COM, CA, FR, IT, UK…) oder Drivethru folgen oder auch gerne PayPal Me nutzen und ein Dankeschön hinterlassen. NEU! Gerne könnt ihr die HPG Station auch über Patreon unterstützen.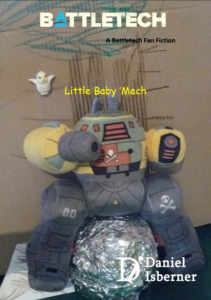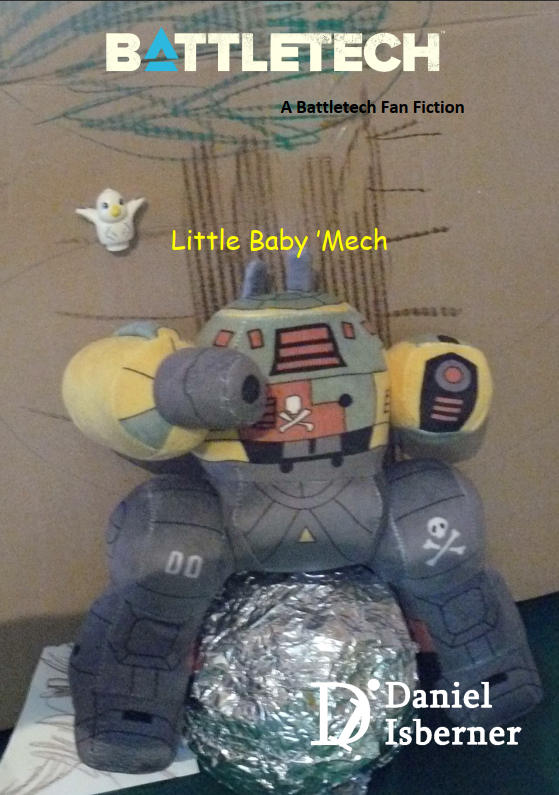 Kleiner Babymech/Little Baby Mech ist als kostenlose Fangeschichte verfügbar. Das perfekte Buch für alle kleinen Battletech-Fans.
Entscheidung am Thunder Rift – Hörbuch auf Amazon