Zuletzt aktualisiert am 4. Januar 2022 von DarkISI
Offenbar startet bei Catalyst gerade eine Hörbuchoffensive. Nach Blood Will Tell ist nun auch Shell Games als Hörbuch verfügbar.
Im Übrigen gibt es derzeit auch noch das Audible Weihnachtsangebot und ihr bekommt Audible 3 Monate kostenlos zum Testen.
Shell Games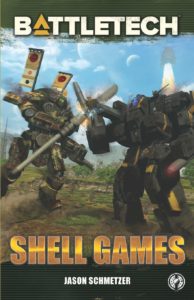 Strength vs. Honor
For more than a decade, the Republic of the Sphere's army hid in silence behind the mysterious, impregnable Wall of Fortress Republic. But now the Wall has come down, and Paladin Max Ergen, commander of Operation Eruptio, has his sights set on an invaluable prize. His target: Dieron, a Draconis Combine military district capital, a former Republic world harboring secrets from past wars. His troops have spent years training in isolation behind the Wall, and they are hungry for battle, ready to remind the Inner Sphere that the wounded Republic is still a force to be reckoned with.
But Dieron is also the fortress of Warlord Kambei Okamoto, one of the Combine's top military officials, and he and his Dieron Regulars are committed to holding the line and defending their home against Republic aggression, no matter the cost. Although the Republic may have surprise and numbers on their side, the Combine troops boast the strength of an impregnable redoubt – and the keen edge of their own unimpeachable honor. And when these two forces clash, the battle for Dieron will be a titanic one indeed…
Auf Amazon kaufen (Taschenbuch, E-Book & Hörbuch)
Buy on Amazon – international link (paperback, eBook & audibook)
Auf Drivethru kaufen (E-Book)