Zuletzt aktualisiert am 10. März 2022 von DarkISI
Na, das ging ja fix. No Substitute for Victory ist jetzt als E-Book auf Amazon und Drivethru verfügbar. Die gedruckte Version kommt sicher wieder demnächst.
Nachdem einige Korrekturen vorgenommen wurden, ist nun ist auch das Taschenbuch erhältlich.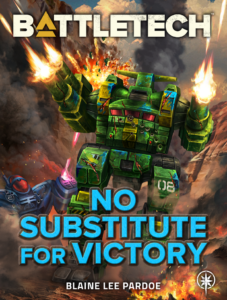 TOO OLD TO FIGHT, TOO YOUNG TO DIE…
For nearly a decade, the relentless warriors of Clan Jade Falcon have held the world of Jangso in the A Place system, using it as a training ground for their next generation of warriors. When the planet's garrison departs to join other Falcon forces in the fight for Terra, the Clans' ultimate prize, aging Star Commander Hasara is ordered to remain behind. Deemed too old to be worthy of going to Terra, he still embraces his honor, and vows to safeguard the planet and all of the cadets too young to join the fight.
The Lyran Commonwealth, still stinging from losing Jangso to the Falcons, resolves to exploit their absence by taking back the planet before the Falcons can return. Armed with military intelligence and smuggled BattleMechs, Lyran natives on Jangso launch critical strikes at Hasara, his ex-MechWarrior partner, and the Falcon cadets under their wings, luring them into a trap.
But the Lyrans have greatly underestimated the Falcons' indomitable spirit and the lengths they will go to when driven to the brink of desperation. As Hasara wrestles with his own sense of honor, and faces dwindling morale and diminishing returns against troops seeking to exterminate him and his cadets, he must prove there is still enough fight left in his old bones to secure a victory for the future of his Clan.
Auf

kaufen (Taschenbuch & E-Book)
Buy on

– International Link (paperback & eBook)
Auf

kaufen (E-Book)
No Substitute for Victory [UPDATE: Taschenbuch ist verfügbar]