Non-BT: Shadowrun & Leviathans
Zuletzt aktualisiert am 13. Mai 2022 von DarkISI
Okay, es ist kein Battletech, aber gelegentlich ist es ja ganz nett, auch mal über den Tellerrand zu schauen. Es ist allerdings auch Freitag. Vielleicht kommt ja noch ein neues Battletech-Produkt. Vielleicht aber auch nicht, um euch nicht zu sehr von Redemption Rites abzulenken und den Fokus auf dem neuen Roman zu lassen.
Beginnen wir mit Shadowrun. Gleich zwei neue Bücher kamen heraus. Shadowrun: Sixth World Companion (Core Character Rulebook) & Shadowrun Missions: Neo-Tokyo Drift (09-04).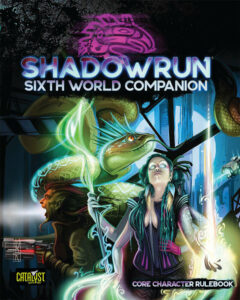 Dream it, be it
The Sixth World is wild and weird, but it doesn't have to be wilder or weirder than you.
If you can dream it, the Sixth World Companion helps you play it. With alternate character creation methods, new metatypes, a whole slew of qualities, and even some rules variations, Sixth World Companion brings dozens of options to your game table for you to build your vision of what your runner should be.
Sixth World Companion is the core player resource book for Shadowrun, Sixth World.
Auf

kaufen (PDF)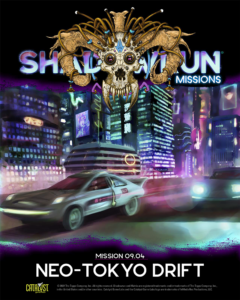 Rev Your Engine!
A big race is coming up, and a lot of people want to win it, as there is both money and prestige on the line. The runners are asked to help arrange for a particular winner of the race, but soon others come in with a competing offer. The runners have to decide who to help, who to anger, and just how they'll make sure their selected target wins.
SRM 09-04 Neo-Tokyo Drift is dual-statted for use with both Shadowrun, Fifth Edition and Shadowrun, Sixth World.
Auf

kaufen (PDF)
Leviathans – Mehr Kickstarter News
Und während wir gerade erst den nächsten Battletech Kickstarter angekündigt bekommen haben, geht es mit weiteren Schritten auf den noch davor angesetzten Kickstarter von Catalyst zu: Leviathans.
Während wir immer noch kein konkretes Datum für den Kickstarter haben, hat Catalyst es nun auf "Sommer 2022" eingegrenzt. Ein genaues Datum soll hoffentlich in den nächsten Wochen folgen. Mit dem Battletech Kickstarter im Herbst war der Sommer aber soweit klar, das konnten wir uns auch so denken.
Und was gab es sonst noch so neues? Inhaltsangaben zum Leviathans Kickstarter. Zumindest ein paar Sachen.
Es wird Faction Boxes geben, mit jeweils vier Miniaturen (den Schiffen, nicht BattleMechs, nur zur Erinnerung), Fraktionstokens, Schiffskarten und Regeln für die Fraktionen. Zusätzlich wird es Ship Packs mit jeweils ein bis zwei Schiffen mit ihren Tokens und Karten sowie Maps und Kampagnenboxen.
Catalyst scheint hier Großes vorzuhaben.
Wenn sie das gut anstellen, können sie hier womöglich eine weitere starke Marke etablieren und sich damit finanziell besser aufstellen. Was auch Battletech zugute kommen würde.