Zuletzt aktualisiert am 18. September 2022 von DarkISI
Was lange währt, wird endlich gut. Oder auf jeden Fall zu Ende. Die Dark Age Reihe hatte definitiv ihre Höhen und Tiefen, aber gegen Ende kann man eigentlich von durchgehend guten Büchern sprechen. Und so endet die Reihe dann auch mit dem Wiedererstarken der Free Worlds League (Liga Freier Welten).
To Ride the Chimera legt den Grundstein dafür, der dann später, nachdem Catalyst die Kontrolle übernommen hat, mit A Bonfire of Worlds fortgeführt wird.
Startschwierigkeiten
Werfen wir bei der Gelegenheit mal einen Blick auf die Dark Age Reihe. Sie begann 2002 mit Ghost War, einem Roman der allgemein als sehr gut angesehen wird. Danach fiel die Qualität der Reihe leider erstmal ab. Wizkidz versuchte kleine Fraktionen als Ersatz für die Großen Häuser zu etablieren und die daraus resultierenden Bücher, viele auch von komplett neuen Autoren, die keine Ahnung von Battletech hatten, waren zum Teil schon fast gruselig (leider aber nicht, weil sie im Horror-Genre gespielt hätten).
Aufwärts
Meiner Meinung nach änderte sich das dann mit Flight of the Falcon. Victor Milán hat der Geschichte den dringend benötigten Tritt in den Arsch gegeben, damit sie in Gang kommt. Mit Malvina Hazen bekamen wir dann auch gleich den Big Bad der Dark Age Ära. Es ging nicht mehr um irgendeinen unwichtigen Planeten, für den sich niemand interessiert, nicht mal Wizkidz (dazu gleich mehr), das Schicksal der gesamten Inneren Sphäre hing plötzlich am seidenen Faden.
Das hätte schon viel früher passieren müssen, aber immerhin hat man die Kurve noch bekommen.
Kein Plan
Leider wurde dabei aber auch immer deutlicher, dass Wizkidz keinerlei Plan hatte, wo sie eigentlich hin wollten. Storyfäden wurde gestartet und dann immer und immer wieder fallen gelassen. Von Inkosistenzen, wie der Tatsache, dass Terra nur von drei Mechs und einem Holzspaten verteidigt wurde, ganz zu schweigen. Fast keiner der Planeten oder Charaktere aus den ersten neun Bänden spielte später eigentlich noch irgendeine Rolle (Ausnahmen sind hier Erik Sandoval-Groell, Tara Campbel und Anastasia Kerensky, die ihre Charaktereigenschaften aber immer wieder komplett ändert und derart inkonsistent geschrieben ist, dass sie eigentlich ein halbes Dutzend verschiedene Charaktere ist). Handlungsfäden aus den Büchern? Blieben liegen.
Das setzte sich auch später noch fort. Immer wieder wurde irgendetwas angefangen, um die damit verbundenen neuen Clix-Minis zu verkaufen, nur um dann abrupt ignoriert zu werden, wenn die nächste Charge an Miniaturen in den Handel kam. Als der Markt für Clix Games dann zusammenbrach (was heute noch existiert kann man an einer Hand abzählen) und auch MechWarrior: Dark Age abrupt endete, blieb damit nicht nur die Basis für die neue Ära (der Ausfall der HPGs) ungeklärt und offen, auch ein Dutzend oder mehr weitere Handlungsfäden blieben einfach hängen.
Zum Glück hat Catatlyst da mittlerweile die Hand drauf und macht es besser.
To Ride the Chimera (3138 – 3139)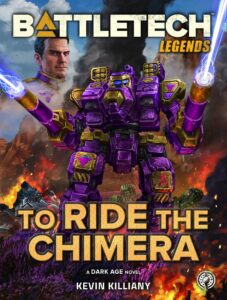 TO REFORGE A SHATTERED LEAGUE…
A MechWarrior without peer, Thaddeus Marik has become the figurehead for a new community of worlds attempting to resurrect the Free Worlds League after the collapse of the Republic of the Sphere. After defeating a Lyran invasion on the planet of Savannah and negotiating a successful alliance with the Clan Protectorate Coalition, Marik must now ally himself with Jessica Halas-Hughes Marik if the new league is to have a chance.
Having Marik and his forces at her side gives Jessica much-needed credibility and greater influence on Oriente. But old hatreds die hard, erupting in a war against enemies who will stop at nothing to destroy the founding of a new league…
Auf

kaufen (Taschenbuch & E-Book)
Buy on

– International Link (paperback & eBook)
Auf

kaufen (E-Book)
To Ride the Chimera – Dark Age Reihe abgeschlossen