Zuletzt aktualisiert am 12. November 2022 von DarkISI
Wie erwartet gab es gestern den neuen Recognition Guide. Band 26 kommt mit zwei Fahrzeugen und einigen Mechs. Das Cover ist übrigens kein Woodsman. Aber seht selbst.
Recognition Guide ilClan 26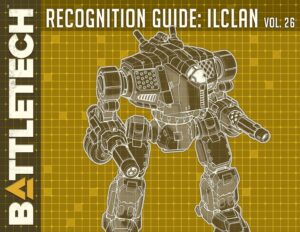 The march of technology across BattleTech's eras is relentless—but some war machines never die. This PDF-only series includes brand-new BattleMechs and OmniMechs, alongside Classic 'Mechs and combat vehicles from both the Inner Sphere and the Clans rebuilt with the latest technology to keep them competitive on modern battlefields. This series also includes in-universe development notes, battle histories, notable pilots, and record sheets for each unit.
Recognition Guide 26 auf

kaufen (PDF)
Diesmal dabei:
Condor Heavy Hover Tank (Ultra)
Merlin
Naga II
Maxim
Flea
Hermes II
Starslayer
Quickdraw
Caesar
Und was ist nun mit der Alpha Strike Box?
Die soll am 15. November aus Catalysts Lager an die Händler rausgehen, die sie vorbestellt haben. Am 25. November soll die Box im CGL Store verfügbar werden, was für uns hier in Europa aber eher nichts bringt, da der Versand viel zu teuer ist, etwa doppelt so teuer wie die Box selbst.
Da wir aber wissen, dass der SciFi Trader bereits einige vorbestellt hat, wird er auch bald beliefert werden. Wann genau das passieren wird, werden wir sicher noch zeitnah erfahren.
Wer jetzt nochmal sehen will, was genau in der Box enthalten ist, kann sich hier ein Unboxing Video ansehen.
Dominions Divided
Dominions Divided soll ebenfalls in den nächsten Tagen bei Catalyst eintreffen und wird im Januar in den Handel kommen. Da der Vorlauf hier deutlich größer zu sein scheint, werden wir das Buch in Europa womöglich sogar zeitlich passend zur US-Veröffentlichung bekommen. Teilweise hat der Großhandel Bücher hier ja sogar schon verfrüht in den Handel geschickt. Warten wir es ab.
Dominions Divided beschreibt den Zustand der Federated Suns, des Draconis Combine und des Rasalhague Dominions in der frühen ilClan Ära. Wie geht es weiter auf New Avalon? Was resultiert aus den Ereignissen in A Question of Survival? All das erfahren wir hier.
Recognition Guide 26, Alpha Strike Box & Dominions Divided