Zuletzt aktualisiert am 13. November 2022 von DarkISI
Bei Humble Bundle gibt es derzeit ein wirklich tolles Einstiegsbundle für Battletech.
Ab nur einem Euro könnt ihr bereits zuschlagen und dann über verschiedene Preisstufen jeweils mehr freischalten. Das absolute Toppaket ab 30 $ (aktuell 30,13 €) bietet dabei sogar die Beginner Box als physisches Produkt an, allerdings nur für Kunden aus den USA. Wenn ihr die also wollt, müsstet ihr jemanden in den USA kennen, dem ihr die Box schenken wollt oder dort jemanden kennen, der sie euch dann weiterleitet. Manche haben ja auch Familie oder Freunde in den Staaten.
Bekommen könnt ihr das Bundle noch bis zum 4. Dezember. Schlagt aber besser jetzt schon zu, dann vergesst ihr es nicht.
Damit ihr dann auch wisst, welches Buch wofür da ist, empfehle ich meinen Einsteigerguide und meine Regelwerksübersicht.
Jetzt aber zu den jeweiligen Paketen.
1 €
Für gerade mal Einen Euro bekommt ihr
Regulärer Kaufpreis wäre über 30 €.
~ 10 €
Für knapp über Zehn Euro kommen dann noch die folgenden PDFs dazu
Das sind nochmal ~ 72 € Warenwert, also zusammen schon über 100 €.
~ 18 €
Der nächste Schritt bringt dann nochmal mehr und hat sich gewaschen. Hier könnt ihr jetzt nicht mehr nur in Battletech einsteigen, sondern gleich in die Vollen gehen und seid mit Material für viele Wochen und Monate versorgt. Darunter sind Highlights wie das gerade erst erschienen Empire Alone oder Tamar Rising und Battle of Tukayyid (an dem ich ja auch mitgeschrieben habe). Zusammen mit all dem anderen Material könnt ihr hier gleich voll und ganz in die neue ilClan Ära einsteigen, denn ihr habt alle wichtigen Sourcebooks für die Ära.
Pseudotech: Arcade Ops
Combat Manual: Kurita
Spotlight On: Crescent Hawks
Empire Alone
Tamar Rising
ilClan
Shattered Fortress
Era Report 3145
Field Manual 3145
Turning Points: Irian
Turning Points: Misery
Battle of Tukayyid
Battle of Tukayyid Supplemental
Total Chaos
Turning Points: Tyrfing
Den Warenwert rechne ich an dem Punkt nicht mehr aus. Ich denke, ihr habt so langsam verstanden, wie unsagbar viel ihr hier für nahezu nichts bekommt (grob betrachtet solltet ihr hier auf weit über 200 € kommen).
~ 30 €
Die letzte Stufe kommt dann fast schon klein daher. Hier bekommt ihr nämlich "nur" noch die oben erwähnte Beginner Box dazu. Für gerade mal ~ 12 € mehr ist das eigentlich wirklich lohnenswert, aber eben nicht aus der EU. Schade, aber verschmerzbar. Denn was ihr auf der Stufe davor bekommt ist mehr als genug. Weit mehr.
---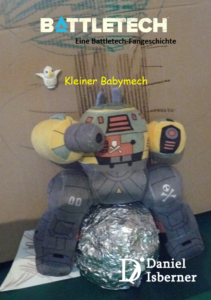 Dir gefällt die HPG Station? Du willst sie unterstützen? Dann hilf, sie zu finanzieren (Webspace kostet Geld und die News hier eine Menge Zeit und irgendwelche Werbebanner oder Trackingcookis will ich absolut nicht hier haben).
Du kannst entweder einem der Links auf der Seite zu Amazon.de, Amazon (COM, CA, FR, IT, UK…) oder Drivethru folgen oder auch gerne PayPal Me nutzen und ein Dankeschön hinterlassen. Gerne könnt ihr die HPG Station auch über Patreon unterstützen.
Kleiner Babymech/Little Baby Mech ist als kostenlose Fangeschichte verfügbar. Das perfekte Buch für alle kleinen Battletech-Fans.
Humble Bundle: Battletech Einsteigerpaket