Zuletzt aktualisiert am 13. Januar 2023 von DarkISI
Nein, der Kickstarter ist nicht überraschend zwei Monate vorgezogen worden. Aber Catalyst hat heute den Pre-Launch begonnen.
Auf der Pre-Launch-Seite bei Backerkit findet ihr eine Schwemme an neuen Informationen rund um den Kickstarter. Dort könnt ihr euch auch für einen Newsletter und mehr Infos für den Kickstarter anmelden, solltet aber die gleiche Mailadresse verwenden, die ihr auch im Catalyst Store habt.
Der Mercenaries Kickstarter wird diesmal mehr Fokus auf die Miniaturen legen. Zwar gibt es immer noch eine Menge an Gimmicks drumherum, aber die Miniaturen bilden den Fokus. 50 neue Mechs, Panzer, Helikopter und Battle Armors wird es im Kickstarter geben. Alle bereits durch den Designprozess durch, wie ihr an den diversen Prototypen sehen konntet, die es über die letzten Monate gab.
Force Packs
Bevor ihr fragt: Panzer und Helikopter kommen in Force Packs mit jeweils 4 Modellen, von denen jedes zwei Mal im Pack ist. Also mit jeweils 8 Miniaturen.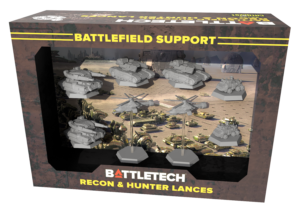 Die folgenden Force Packs wird es im Kickstarter geben:
Inner Sphere Recon Lance
Inner Sphere Pursuit Lance
Battlefield Support: Recon & Hunter
Inner Sphere Security Lance
Clan Cavalry Star
Battlefield Support: Assault & Cavalry
Inner Sphere Assault Lance
Inner Sphere Heavy Recon Lance
Battlefield Support: Battle & Fire
Clan Direct Fire Star
Inner Sphere Battle Armor Pack
Battlefield Support: Objectives
Zusätzlich wird es Legendary Packs, Salvage Boxes und vielleicht sogar mehr geben. Stretch Goals!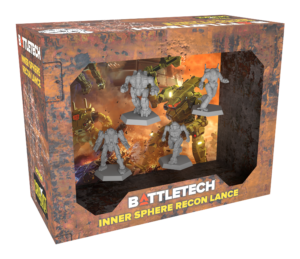 Swag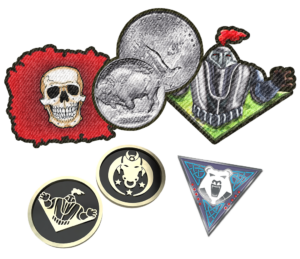 Auch wenn der Fokus diesmal mehr auf den Miniaturen liegt, es wird es natürlich wieder Lapel Pins, Patches und Challenge Coins geben. Alle von der gleichen Qualität wie im Clan Invasion Kickstarter. Würfel werden explizit nicht erwähnt, das erscheint mir auch besser so.
Ein paar Highlights, was es dabei geben wird:
Gray Death Legion
Taurian Concordat
Snord's Irregulars
Rasalhague Dominion
McCarron's Armored Cavalry
Und auch hier gilt: Stretch Goals werden womöglich mehr liefern.
4″ Timber Wolf (Mad Cat)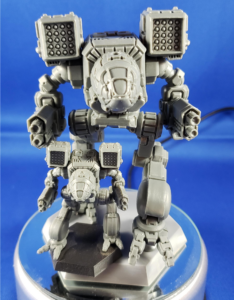 Ja, ihr habt euch nicht verlesen: Es wird einen 4″ Timber Wolf geben, für den Catalysts Produzent ihnen kostenlos das Tooling gemacht hat, um sich für Verzögerungen in der Vergangenheit zu entschuldigen. Geld wird er natürlich trotzdem kosten, denn die Produktion wird nicht verschenkt. Außer wer als Veteran oder höher pledged. Diejenigen kriegen den Timber Wolf zum Pledge Level dazu.
Visigoth Aerospace Fighter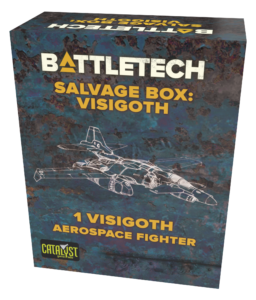 Es wird eine Salvage Box Visigoth geben, die Backer kaufen können. Der Visigoth wird ebenfalls als Early Bird Special an alle Backer verschenkt, die sich innerhalb der ersten 48 Stunden im Kickstarter eintragen.
Previews und T-Shirts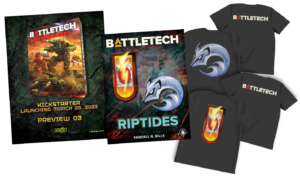 Es wird auch weiter die Preview PDFs im Catalyst Store geben, die ihr euch kostenlos herunterladen könnt.
Eine kleine Änderung gibt es bei den T-Shirts. Die werden diesmal nicht direkt Teil des Kickstarters sein (die Logistik von 30 Modellen in jeweils 10(?) Größen) war dann doch etwas viel. Stattdessen werden die T-Shirts in Paaren jeweils ab heute regelmäßig im Catalyst Store veröffentlicht. Das erste Paar wird Clan Sea Fox und die Illician Lancers sein.
Parallel dazu gibt es eine Kurzgeschichtenreihe, die jeweils die T-Shirt Paarungen beleuchtet. Den Start legt Riptides von Randall Bills hin. Dort wird es um, ihr ahnt es, Clan Sea Fox und die Illician Lancers gehen.
Riptides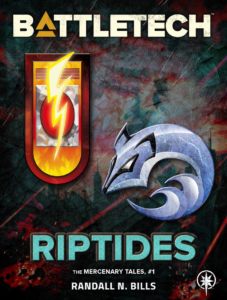 A NEW ERA IS DAWNING…

The Illician Lancers: a mercenary outfit with centuries of honorable tradition, yet somehow always missing the limelight. Especially recently, after their mission failure during the liberation of New Syrtis in 3147 tarnished their once-sterling reputation and left them languishing on the Capellan border. Can Colonel Luciana Araya Morales overcome the shame of those events and restore the Lancers to their former glory?

Meanwhile, as Clan Wolf prepares for its invasion of the cradle of humanity, Ya'el Labov, saKhan of the Sea Fox Khanate, hunts for new opportunities in the currents wafting from Terra. Rumors that the Clan Wolf Khan is using mercenaries as part of his attack plan set the wily saKhan's mind to spinning. How can he take advantage of this, and make Clan Sea Fox's star rise even further?

Two people with very different goals are about to embark on a shared mission that, if successful, will change much in the Inner Sphere. And if they are not, their alliance may be doomed to failure before it can even begin…
Auf

kaufen (E-Book)
Buy on

– International Link (eBook)
Auf

kaufen (E-Book)
Interstellar Operations: Alternate Eras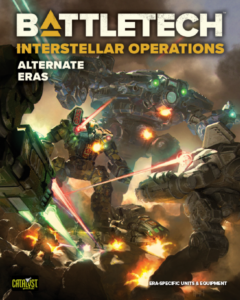 Primitive Units. QuadVees. Superheavy 'Mechs. Weapons of Mass Destruction. Robotic and Drone Systems. Land-Air BattleMechs.
As you delve into BattleTech lore, additional weapons, units and rules become available to you and your forces as you fight in the Dark Age, Jihad, or even the depths of the Star League Eras, and all the way back into the Age of War before the birth of the BattleMech.
Alternate Eras introduces a huge swath of rules for playing across the thousand years of BattleTech history, including weapons and equipment mostly unique to a given era.
Note: The original publication of Interstellar Operations had rules for large scale BattleTech play (Strategic BattleForce, Abstract Combat System, and Inner Sphere at War) which can now be found in the Interstellar Operations: BattleForce.
Interstellar Operations: Alternate Eras auf

kaufen (PDF)
Interstellar Operations: Battleforce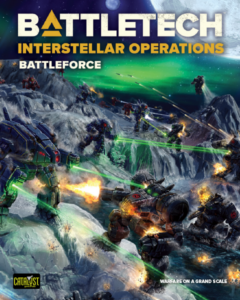 Marshal your forces and prepare to conquer the Inner Sphere! Interstellar Operations: BattleForce provides a sliding zoom that can scale from a quick game on your table up to the macro level, allowing players to assume the roles of House Lords and dominate the galaxy!
BattleForce is a complete, all-in-one-book game system of combat on a grand scale, but tailored to your interest at the gaming table.
Play lightning-fast, large-scale games like battalion vs battalion or conquer a planet with multiple regiments.
Not large enough? Invade an entire sector of a House as armies clash across a dozen systems.
Still not large enough? Become a Clan Khan or House Leader and amass all the industrial might of your empire to protect your worlds and defeat your enemies!
Note: The original publication of Interstellar Operations had rules for playing in alternate eras which can now be found in the Interstellar Operations: Alternate Eras.
Interstellar Operations: Battleforce auf

kaufen (PDF)
Party!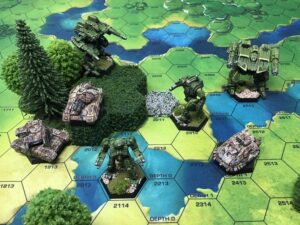 Ich hatte im Titel schon eine Party erwähnt und ihr habt euch sicher gewundert, was das soll. Nun, es wird parallel zum Kickstarter Launch am 23. März Launch Parties geben (alternativ sind auch Termine am 24., 25. oder 26. März möglich, Leute müssen ja arbeiten). Überall auf der Welt können sich Launch Parties bewerben, um von Catalyst mit Getränken, Miniaturen (aus dem Kickstarter) und weiteren Gimmicks gesponsort zu werden. Als drittgrößte Gruppe im Clan Invasion Kickstarter sollte sich natürlich auch in Deutschland mindestens eine Launch Party schmeißen lassen. Meldet euch dazu einfach auf der Pre-Launch Seite an, über euren Catayst Store Account, wird eure Region ermittelt. Die Regionen mit den meisten Anmeldungen bekommen Launch Parties spendiert.
Mehr Details, auch für die nötige Koordination, findet ihr auf der Pre-Launch Seite.
Auf einer davon plane ich derzeit auch aufzuschlagen, Bücher zu signieren, über das Schreiben für Battletech zu schwadronieren und mich in Gefechte zu stürzen. Also anmelden, damit das was wird! Enttäuscht mich nicht!
In diesem Sinne: Hoch die Tassen!
---
---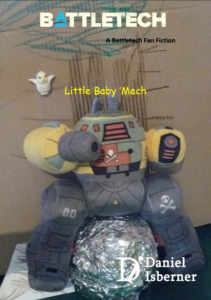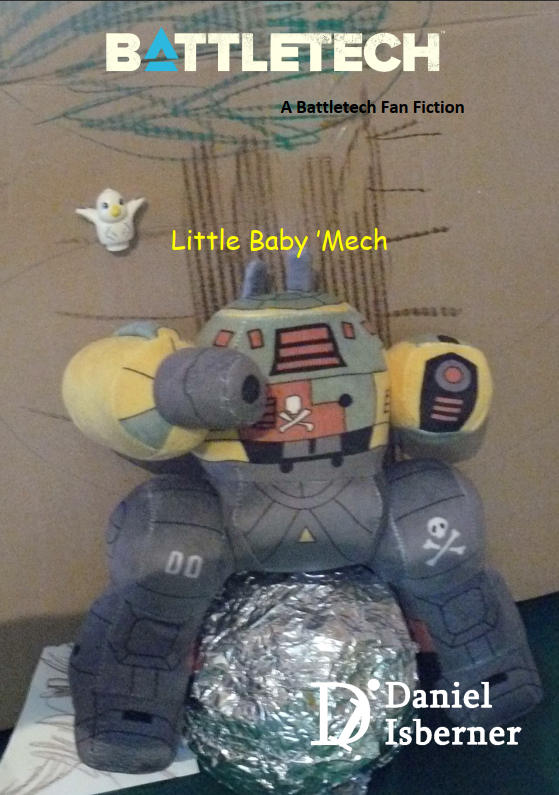 Dir gefällt die HPG Station? Du willst sie unterstützen? Dann hilf, sie zu finanzieren (Webspace kostet Geld und die News hier eine Menge Zeit und irgendwelche Werbebanner oder Trackingcookis will ich absolut nicht hier haben).
Du kannst entweder einem der Links auf der Seite zu Amazon.de, Amazon (COM, CA, FR, IT, UK…) oder Drivethru folgen oder auch gerne PayPal Me nutzen und ein Dankeschön hinterlassen. Gerne könnt ihr die HPG Station auch über Patreon unterstützen.
Kleiner Babymech/Little Baby Mech ist als kostenlose Fangeschichte verfügbar. Das perfekte Buch für alle kleinen Battletech-Fans.
Battletech Mercenaries Kickstarter – Die Party beginnt!