Zuletzt aktualisiert am 6. Februar 2023 von DarkISI
Es ist mal wieder Recognition Guide Zeit (ja, ich weiß, die war Freitag Abend, aber ich war beschäftigt).
Auch Recognition Guide: ilClan 31 kommt wieder mit einer Mischung aus Fahrzeugen, Mechs und Battle Armors:
Savanah Master
Harrier Heavy Hover Tank
Behemoth Heavy Tank
Callisto Battle Armor
MASH Truck
Manticore
Javelin
Clint
Shogun
Pillager
Wie gewohnt freue ich mich auch diesmal wieder besonders über die neue Battle Armor, die auch etwas bietet, was wir so bei den Clans noch nicht gesehen haben. Nämlich einen Squad Support Weapon Mount.
Recognition Guide: ilClan 31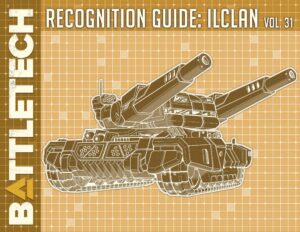 The march of technology across BattleTech's eras is relentless—but some war machines never die. This PDF-only series includes brand-new BattleMechs and OmniMechs, alongside Classic 'Mechs and combat vehicles from both the Inner Sphere and the Clans rebuilt with the latest technology to keep them competitive on modern battlefields. This series also includes in-universe development notes, battle histories, notable pilots, and record sheets for each unit.
Recognition Guide: ilClan 31 auf

kaufen (PDF)
Recognition Guide: ilClan 31