Zuletzt aktualisiert am 28. Juli 2020 von DarkISI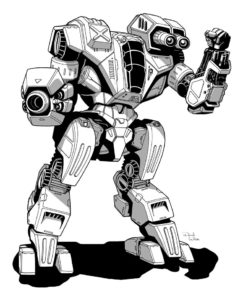 Heute Morgen gegen 02:00 wurde endlich das neue Datum für TRO: Golden Century angekündigt (Facebooklink). Es wird diesen Freitag als PDF und PoD (über Drivethrugh) veröffentlicht.
Ebenfalls weiterhin erscheinen wird Recognition Guide: IlClan 4 und Rock of the Republic wird im Laufe der Woche über die verschiedenen E-Book Plattformen veröffentlicht, auf Amazon ist es bereits erschienen.
Good news! Technical Readout: Golden Century and Era Digest: Golden Century will be available in print-on-demand and PDF this Friday, July 31. Don't worry, Recognition Guide: Vol. 4 is still planned for release that day as well.

To tide you over, here's a look at a Golden Century 'Mech, the Vision Quest!

One more thing: you may start to see the new Blaine Lee Pardoe novella Rock of the Republic appearing on your favorite e-book platforms over the next few days. Due to the variations in publishing methods and timing between the platforms, we can't provide a single date when it would drop on all of them. However, once it becomes available on all e-book platforms and in print-on-demand, we'll be sharing the convenient one-stop link to get it.
TRO: Golden Century – am Freitag