Zuletzt aktualisiert am 28. Juli 2021 von DarkISI
Und weiter geht es mit den Neuauflagen der Dark Age Romane. Heute: Patriot's Stand.
Patriot's Stand markiert das letzte komplett unwichtige Buch der Reihe, denn danach geht es mit Flight of the Falcon los und Malvina und die Jade Falcons werden eingeführt. Womit dann die Storyline beginnt, die schlussendlich zur IlClan Ära führt und das Dark Age sich wieder wie Battletech anfühlt.
Also nur noch dieses Buch und beim nächsten Mal geht es richtig los!
Patriot's Stand ist derzeit bei Amazon und Amazon.com als E-Book & Taschenbuch verfügbar. Auf Drivethru als E-Book.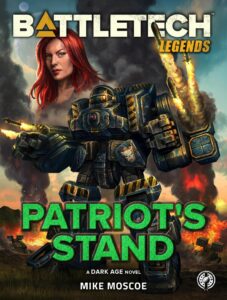 A DESPERATE FIGHT…
Under assault and ill-equipped, Alkalurops has come apart since the loss of its communications grid and the inability of the Republic of the Sphere to re-establish it. But in a universe of powerful players, a leader has to grab power fast if she's going to survive…
Grace O'Malley's people are valiantly making a stand against Hansen's Roughriders, a band of mercenaries destroying everything in their path. Badly outnumbered, her forces need real BattleMechs operated by trained MechWarriors. And they're not going to be easy to afford, especially since the big mine owners refuse to offer any funds for planetary defense. But Grace will not surrender her homeland, no matter what the price.
Even though the ragtag locals are putting a surprising good fight, Loren Hansen remains confident he can defeat them. What he doesn't count on is an opponent determined to write her planet's history in the scorched wreckage of the battlefield…
Auf Amazon kaufen (Taschenbuch & E-Book)
Buy on Amazon.com (paperback & eBook)
Auf Drivethru kaufen (E-Book)
Patriot's Stand – Jetzt im Handel