Zuletzt aktualisiert am 5. März 2021 von DarkISI
Nachdem Catalyst ja beim letzten AMA angesagt hat, dass sie nun auch die alten Dark Age Bücher herausbringen können, hat der entsprechende Prozess nun offenbar begonnen.
Battletech Legends: Ghost War
Battletech Legends: Ghost War von Michael Stackpole ist nun als E-Book verfügbar. Falls es euch beim Titel gerade nicht sofort aufgefallen ist: "MechWarrior: Dark Age" ist nicht mehr länger Teil des Buchtitels.
Das Buch gibt es als E-Book auf Amazon (4,49 €) und Drivethru (4,17 €) erhältlich. Die gedruckte Ausgabe gibt es für 12,29 € auf Amazon.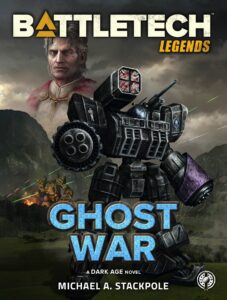 IN A TIME OF PEACE…
For generations, the Republic of the Sphere has known a Golden Age of peace. Mighty BattleMechs, once kings of the battlefields, now aid the reconstruction of war-torn worlds. But when terrorists destroy the interstellar communications net, each planet is thrust into isolation. Suddenly old hatreds resurface, and a people who have never known war face the prospect of it firsthand…
A MYSTERIOUS NEW THREAT ARISES…
Sam Donelly is one of the best LumberMech jockeys on the planet, wielding his 'Mech's fifteen-foot chainsaw with the grace and precision of a surgeon. Caught in a skirmish with revolutionaries, he soon finds himself a rebel recruit. But Sam is no mere lumberjack, and if his true identity is discovered, the repercussions could be disastrous not only for Sam, but for the entire Republic…
Jetzt auf Amazon oder auf Drivethru kaufen.
Vehicle Annex, Revised
Catalyst hat erneut ein Sourcebook als Print on Demand über Drivethru herausgebracht, das bislang exklusiv digital erhältlich war: Vehicle Annex, Revised (wer letzte Woche aufgepasst hat, der wusste bereits, dass das heute kommen wird). [Jaja, ich weiß, ist noch nicht da, aber ich will den Artikel nachher nicht umschreiben müssen, wenn es da ist. Ich gebe dann Bescheid und die Links führen jetzt schon zu der Seite, auf der nachher das PoD auftaucht. 😉 ]
Genau wie auch schon Historical: Operation Klondike gibt es übrigens auch das PDF von Vehicle Annex, Revised bis zum 14. März um 40 % reduziert für 11,04 €, statt 18,40 €. Wenn euch das PDF also ausreicht und ihr es bislang nicht habt, dann ist das jetzt der ideale Zeitpunkt.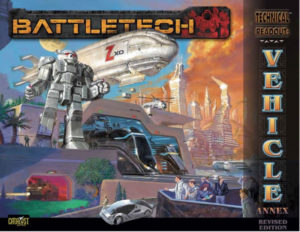 UNSUNG WORKHORSES
MechWarriors receive all the glory; aerospace fighters are a close second; vehicles are considered the workhorses of any military; infantry are even given their day in the sun in the minds of the common citizen. But no battle could be waged, nor won, without the mammoth apparatus of support vehicles that feed the war machine of the Great Houses. From cargo trucks to tanker airships, airborne MASH to communications satellites, armored transport rails to coastal patrol boats, hauler exoskeletons to AgroMechs, even hover and wheeled police cruisers or civilian vehicles conscripted to the military: the support vehicle is the true backbone of any military machine.
Built using the construction rules in TechManual and Tactical Operations, BattleTech Technical Readout: Vehicle Annex provides a never-before-seen look at the support vehicles behind the militaries of every faction, as well as a slice of daily life in theBattleTechuniverse.
Revised! This revised edition has been updated with an overview of the Jihad and Republic era, up to 3084, covering its effects on support vehicle production and various efforts to use them as weapons of war.
---
Dir gefällt die HPG Station? Du willst sie unterstützen? Dann hilf, sie zu finanzieren (Webspace kostet Geld und die News hier eine Menge Zeit).
Du kannst entweder einem der Links auf der Seite zu Amazon oder Drivethru folgen oder auch gerne PayPal Me nutzen und ein Dankeschön hinterlassen.
Willkommen in der Schattengalaxis – welche die Menschheit immer wieder vor neue Herausforderungen stellt – immer getrieben vom Eroberungsdrang. Immer weiter in die Tiefen der Galaxis, nicht sehend, welche Chancen und Gefahren dort auf sie warten.
Ob das Erkunden neuer Planeten, der Diebstahl von Waffen, Agentenmissionen, Sabotageakte oder die Bergung uralter Alientechnologie …
In fünf spannenden Geschichten verleihen Jörg Köster, Daniel Isberner, Francis Bergen, Peter Hohmann und Gloria H. Manderfeld der Schattengalaxis eine neue Tiefe.
Ghost War & Vehicle Annex Revised – im Handel