Zuletzt aktualisiert am 13. März 2021 von DarkISI
Weiter geht es mit der Veröffentlichung der MechWarrior: Dark Age Romane durch CGL.
Heute ist A Call to Arms dran (deutsch: Der Kampf beginnt).
Derzeit ist das E-Book auf Amazon für 4,21 €  und auf Drivethru für 4,17 € verfügbar.  Die gedruckte Ausgabe auf Amazon folgt vermutlich im Laufe des Tages (wie gewohnt, reiche ich dann ein Update nach). Jetzt ist auch das Taschenbuch für 12,60 € über Amazon verfügbar.

Später oder morgen folgt auch wieder ein Vergleich der drei Cover. Derzeit warte ich noch auf eine höher aufgelöste Version des Neuen, die ich noch nicht habe.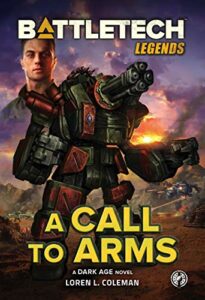 A UNIVERSE GONE DARK…
Months have passed since the interplanetary communications net was destroyed, isolating planets across the Republic of the Sphere and beyond. Achernar is one of the few worlds that still possesses a working Hyperpulse Generator Station, a device that enables communications across the galaxy—and a highly sought-after prize for the splintering factions of the Republic…
After failing to qualify as an active MechWarrior, Raul Ortega finds solace in the Republic's military reserves on Archenar, and dreams of the day he might know the adventure and glory of real combat. The planet's Republic-loyal forces are supported by a loose alliance with the Swordsworn, a faction pledged to House Davion—whose leaders have an agenda all their own.
When the planet falls under siege by yet another splinter group, the Steel Wolves, who are intent on capturing the HPG station, Raul is called up to active duty. But when the Swordsworn desert Archenar in its time of need, Raul discovers there's little honor in the subtle schemes of treachery and the brutal realities of war…
Jetzt auf Amazon kaufen!
Jetzt auf Drivethru kaufen!
---
Dir gefällt die HPG Station? Du willst sie unterstützen? Dann hilf, sie zu finanzieren (Webspace kostet Geld und die News hier eine Menge Zeit).
Du kannst entweder einem der Links auf der Seite zu Amazon oder Drivethru folgen oder auch gerne PayPal Me nutzen und ein Dankeschön hinterlassen.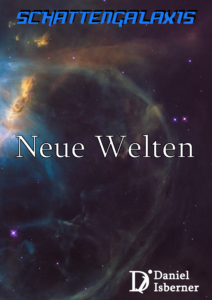 Schattengalaxis – Neue Welten
Im Jahr 2122 startete das riesige Kolonieschiff Neue Welten in die Tiefen des Alls, um mit einer 7.000 Mann starken, zur Hälfte aus Soldaten und Zivilisten bestehenden Besatzung, mit der Besiedlung neuer Welten zu beginnen, doch es kam anders als gedacht.
Nach knapp einem Jahr im Hyperraum entdeckt Dr. Annabelle Armnaissance, dass sich jemand an den Systemen des Schiffes zu schaffen gemacht hat. Jeder an Bord könnte der Verräter sein und sie weiß nicht, wem sie vertrauen kann.
Das Gelingen ihrer Mission steht auf Messers Schneide …
****
153 Jahre später, gestrandet in einem Teil der Galaxis, der von Aliens beherrscht wird und in dem Menschen als minderwertige Außenseiter behandelt werden, nutzt die Crew der Erowans Rache die hochentwickelte kybernetische Technologie der Menschen dazu, um fremde Welten und Technologie längst vergessener und ausgestorbener Aliens zu entdecken.
Die Erkundung eines uralten Bauwerks auf XDV3Z1-7 stellt sich dabei als schwieriger und lebensgefährlicher heraus, als Brian Malcah und sein Team je gedacht hätten …
Als E-Book, Taschenbuch und neu als gebundenes Buch verfügbar
Battletech Legends: "A Call to Arms" – Jetzt verfügbar