Zuletzt aktualisiert am 2. September 2021 von DarkISI
Jason Schmetzer hat Redemption Rift vor etwas über zehn Jahren geschrieben und sich nun hingesetzt und einige Eindrücke, Anekdoten und den Schaffensprozess aufgeschrieben.
Auf jeden Fall einen Blick wert.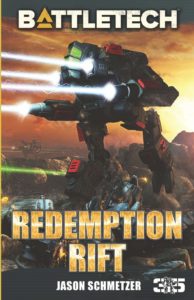 ON THE HUNT AGAIN…
It is the Dark Age—3139—and the famed mercenary regiments of Wolf's Dragoons have returned to the employ of House Kurita after a century of bitter enmity. Somehow, mercenaries and Kuritans must find a way to work together in a combined invasion of the Dragon's oldest enemy, House Davion.
Thrust into the middle of this new conflict, Colonel Henry Kincaid is surprised by the commonalities—duty, honor, expediency—the Wolves and Combine forces share.
But as the Wolves' lightning tactics and unstoppable drive brings world after Davion world under the Dragon's banner, old hatreds arise anew, and with them come insidious plots engineered to cause the mercenaries' downfall.
Throughout the campaign, Colonel Kincaid struggles to rectify what he thought he had always known about the Kuritans with the truth he discovers while actually working with them. But when his forces are trapped on a Davion world with no way to escape and the regiments of House Davion closing in, can he pull another bit of genius from his hat, or will the battalions of Wolf's Dragoons be destroyed?
Auf Amazon kaufen (Taschenbuch & E-Book)
Buy on Amazon – international link (paperback & eBook)
Auf Drivethru kaufen (E-Book)
---
Dir gefällt die HPG Station? Du willst sie unterstützen? Dann hilf, sie zu finanzieren (Webspace kostet Geld und die News hier eine Menge Zeit und irgendwelche Werbebanner oder Trackingcookis will ich absolut nicht hier haben).
Du kannst entweder einem der Links auf der Seite zu Amazon.de, Amazon (COM, CA, FR, IT, UK…) oder Drivethru folgen oder auch gerne PayPal Me nutzen und ein Dankeschön hinterlassen.
Redemption Rift – A Decade Later