Zuletzt aktualisiert am 22. Juli 2022 von DarkISI
Nächsten Samstag gibt es den ersten AMA zum kommenden Leviathans Kickstarter. Wer von euch Interesse hat, daran teilzunehmen kann das am nächsten Samstag, den 23. Juli ab 19 Uhr tun. Für die Interessierten habe ich ebenfalls einen neuen Abschnitt auf der Seite geschaffen. Oben in der Linkleiste findet ihr nun einen Themen-Reiter, unter dem ihr spezifisch Meldungen zu Battletech, Leviathans und Shadowrun auswählen könnt.
Sobald der Link zum Leviathans-AMA bekannt ist, werde ich ihn hier einstellen, speichert euch die Seite also zwischen, wenn ihr teilnehmen wollt. Denkt bitte daran, dass es dabei um Leviathans gehen wird. Fragen zu Battletech und dem kommenden Mercenary Kickstarter können an anderer Stelle gestellt werden.
Einige von euch fragen sich jetzt sicher: Was zur Hölle ist Leviathans? Wovon redet der Irre da?
Leviathans war ein Spielsystem, das Catalyst vor vielleicht zehn Jahren herausgebracht hat. Es handelt sich um eine Parallelwelt, in der gigantische, Dampfgetriebene Luftschiffe (und ja, sie sehen wirklich aus wie Schiffe) zur Kriegsführung genutzt werden.
Das Spielsystem wirkte immer schon spannend und die sich in gerade Bahnen über die Karte bewegenden Torpedos, die als Area Denial Waffen eingesetzt werden konnten waren dabei nur einer der spannenden Aspekte des System.
Gescheitert ist das System damals nicht an den Verkaufszahlen oder dem Interesse, sondern der Tatsache, dass Taiwan eigenständig gezeigt wurde. China hat daraufhin die Ausfuhr verboten, nachdem bereits alles produziert und bezahlt war. Der finanzielle Schlag war für Catalyst zur damaligen Zeit nicht so einfach abzufedern und Leviathans konnte nicht fortgeführt werden.
Mittlerweile sieht die finanzielle Situation von Catalyst aber anders aus und Kickstarter bietet Möglichkeiten, die damals so nicht vorhanden waren. Damit kann das Spielsystem nun, natürlich leicht überarbeitet, wiederbelebt werden.
Der Kickstarter startet am 2. August.
Und wer den Kickstarter nicht abwarten kann und schonmal in das Universum einsteigen möchte, kann sich die Anthologie Armored Skies kaufen.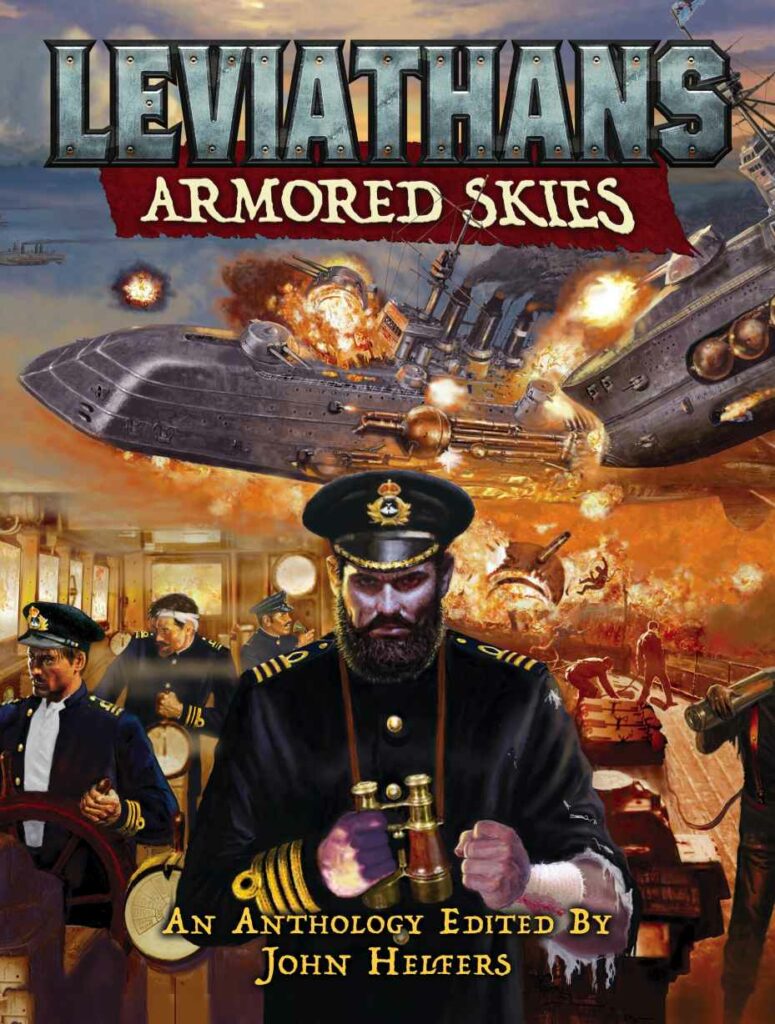 IT IS THE DAWN OF A NEW AGE…
At the beginning of the 20th century, the world was forever changed by the discovery of electroid, a strange liquid that allowed for lighter-than-air travel. Militaries around the world rushed to develop new vessels based on this amazing invention, resulting in a class of flying ships unlike anything ever seen before…the leviathan.
Now, the skies are filled with massive armored warships that soar through the air, armed with devastating cannons that can lay waste to an enemy vessel in moments. The nations of the world have entered into a dangerous new arms race, and all it will take is the right spark to set off a war that will ensnare the nations on and around the European continent…and may engulf the world…
Mit Geschichten von: William H. Keith, Jr., Michael J. Ciaravella, Steven Mohan, Jr., Bryn Bills, Blaine Lee Pardoe. S.M. Stirling, Harry Turtledove & Tyler Whitney
Auf

kaufen (Taschenbuch, gebundenes Buch & E-Book)
Buy on

– International Link (Hardcover, Softcover & eBook)
Auf

kaufen (E-Book)
Hatte ich eigentlich schon erwähnt, dass die Leviathans-Miniaturen bemalt geliefert werden?
Leviathans AMA am Samstag