Zuletzt aktualisiert am 10. Dezember 2022 von DarkISI
Der nächste Recognition Guide ist gestern erschienen.
Diesmal gibt es sogar eine neue Battle Armor.
Aber der Reihe nach.
Einen vollen Eintrag haben diesmal:
Whirlwind Scout Hover Tank
Mobile Long Tom
Sturmfeuer
TinStar Battle Armor
Kurzeinträge:
Skulker
Warrior
Firestarter
Spector
Cicada
Devastator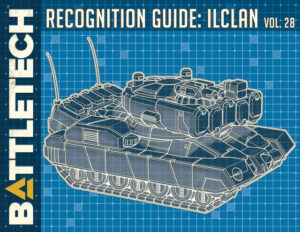 The march of technology across BattleTech's eras is relentless—but some war machines never die. This PDF-only series includes brand-new BattleMechs and OmniMechs, alongside Classic 'Mechs and combat vehicles from both the Inner Sphere and the Clans rebuilt with the latest technology to keep them competitive on modern battlefields. This series also includes in-universe development notes, battle histories, notable pilots, and record sheets for each unit.
Recognition Guide 28 auf

kaufen (PDF)
Recognition Guide: ilClan 28