Zuletzt aktualisiert am 6. Juni 2021 von DarkISI
So, da kam also ein neues Cover rein und ich hatte es noch nicht mal geschafft, das für Donnerstag geplante Cover von Falcon Guard zu machen. Dafür jetzt The Ruins of Power und Falcon Guard gibt es dann am nächsten Donnerstag (wirklich, ganz ehrlich, hoffentlich).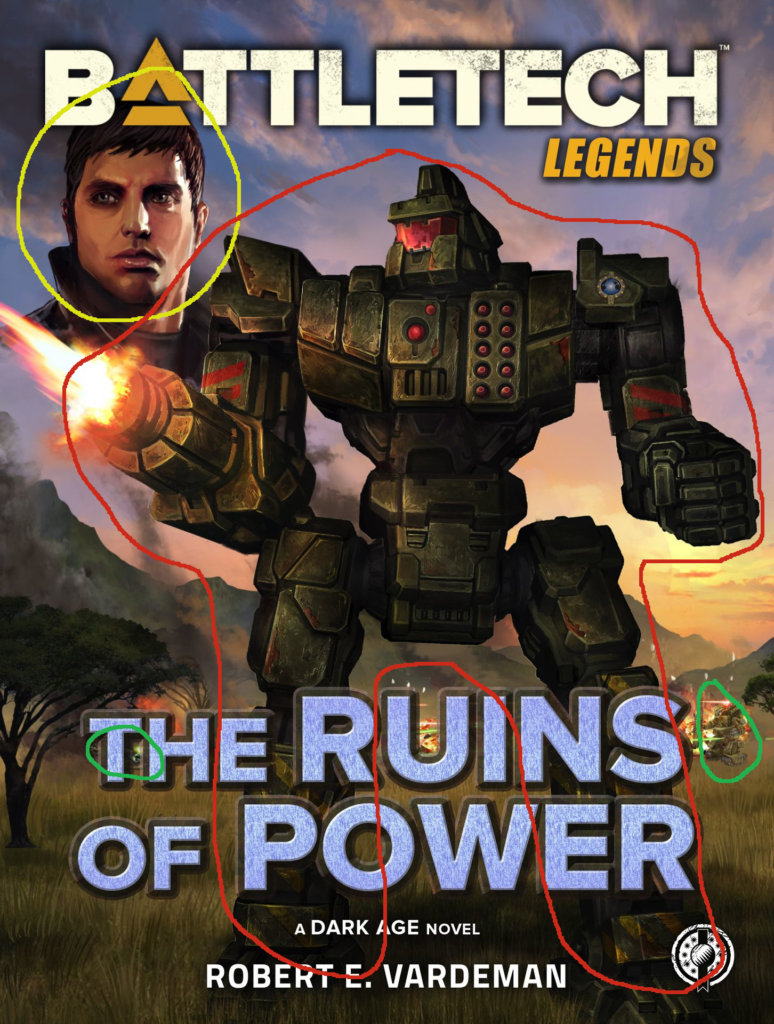 Wie gewohnt bei den Dark Age Romanen gibt es drei sehr unterschiedliche Cover. Das Original MechWarrior Dark Age Cover mit dem superhässlichen, abscheulichen, ekelerregenden (von mir auch diesmal nicht erwähnten) fetten Rahmen, das deutsche Cover und das neue Catalyst-Cover.
Dieses Mal werden nur sehr wenige Elemente vom deutschen Cover übernommen, aber dazu kommen wir gleich.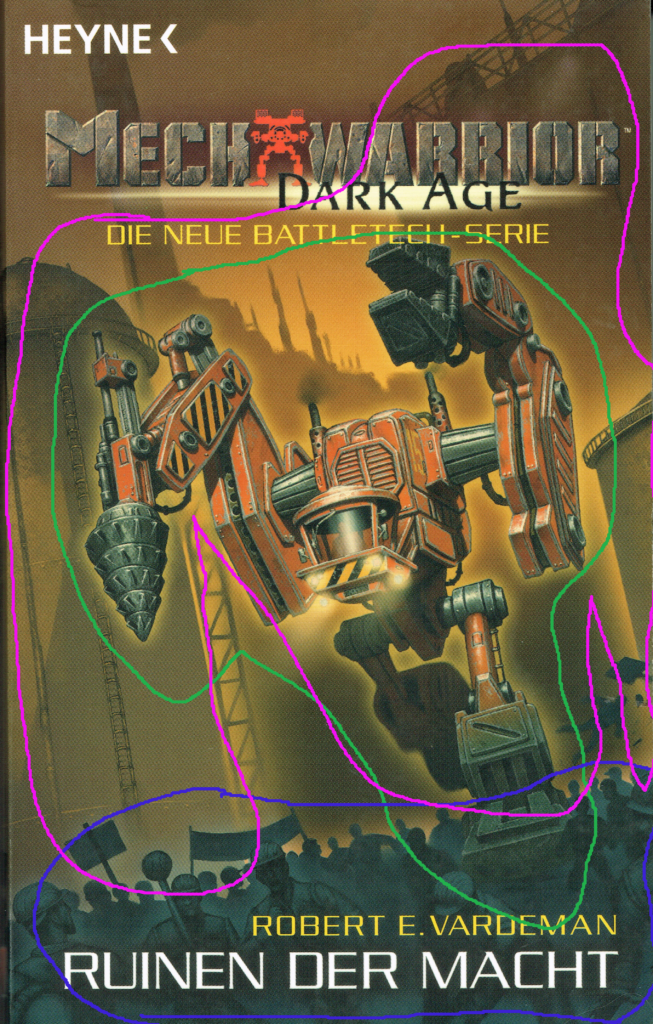 Oben links auf dem neuen Cover sehen wir wieder einen frei im Raum schwebenden Kopf (gelb), den es schon im Originalcover gab. Aber nicht im deutschen. Fehlen tut auch diesmal, wie schon bei A Call to Arms, die Frau (orange). Zugegebenermaßen ist Marta Kinsolving tendenziell ein eher unwichtiger Charakter für das Battletech-Setting. Das lässt sich von Anastasia Kerensky, die bei A Call to Arms weggelassen wurde, aber nicht sagen. Sergio Ortega, dessen Gesicht wir auf dem neuen Cover von The Ruins of Power haben ist übrigens genauso unwichtig, wie Marta Kinsolving. Beide tauchen nur in diesem einen Buch auf, beide sind vollkommen belanglose Charaktere. Ich sehe hier gerade definitiv einen Trend.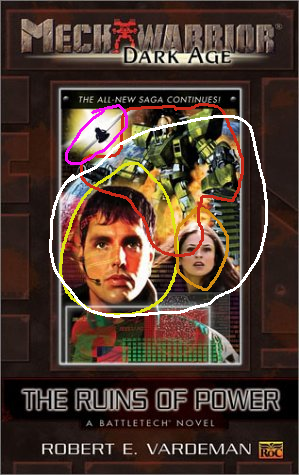 Im Zentrum des neuen Cover sehen wir einen Centurion schlecht gezeichneten Crosscut Logger MOD (Danke Johannes, für den Hinweis, dass ich mich hier geirrt habe), den es auch schon im Originalcover gab (rot). Im Vergleich hatte das deutsche Cover einen Industrial Mech groß zu sehen (grün). Einen Industrial Mech gibt es auch immer noch, aber weit im Hintergrund und auch einen anderen. Vielleicht gibt es noch einen zweiten zu sehen, links unter dem T, aber der Schriftzug macht es nahezu unmöglich die Stelle zu sehen. Womöglich handelt es sich dabei auch um Zivilisten, die im deutschen Cover ebenfalls zu sehen sind (blau). Sicher sagen kann ich es nicht.
Der ist nun nahezu komplett unter dem Schriftzug verschwunden. Wenn ihr genau hinschaut, dann findet ihr ihn unter dem "U". Unter dem "T" findet ihr Hover Infantry, auch wenn das mit Schriftzug nicht zu erkennen ist.  Die Zivilisten (blau) sind komplett verschwunden.
Komplett verschwunden sind die Stadt aus dem deutschen Cover und der Satelit aus dem Original (rosa). Der Planet aus dem Hintergrund (weiß) im Originalcover ist schon noch irgendwie da. Wir sehen ihn, denn die Action findet darauf statt.
Dass das Buch (und damit auch das Cover) auch diesmal wieder unter "Battletech" und nicht mehr unter "MechWarrior: Dark Age" firmiert muss wohl nicht mehr groß erwähnt werden.
Hier könnt ihr das Buch auf Amazon kaufen.
---
Dir gefällt die HPG Station? Du willst sie unterstützen? Dann hilf, sie zu finanzieren (Webspace kostet Geld und die News hier eine Menge Zeit).
Du kannst entweder einem der Links auf der Seite zu Amazon oder Drivethru folgen oder auch gerne PayPal Me nutzen und ein Dankeschön hinterlassen.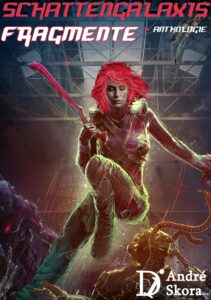 Schattengalaxis – Fragmente
Willkommen in der Schattengalaxis – welche die Menschheit immer wieder vor neue Herausforderungen stellt – immer getrieben vom Eroberungsdrang. Immer weiter in die Tiefen der Galaxis, nicht sehend, welche Chancen und Gefahren dort auf sie warten.
Ob das Erkunden neuer Planeten, der Diebstahl von Waffen, Agentenmissionen, Sabotageakte oder die Bergung uralter Alientechnologie …
In fünf spannenden Geschichten verleihen Jörg Köster, Daniel Isberner, Francis Bergen, Peter Hohmann und Gloria H. Manderfeld der Schattengalaxis eine neue Tiefe.
Coververgleich: The Ruins of Power